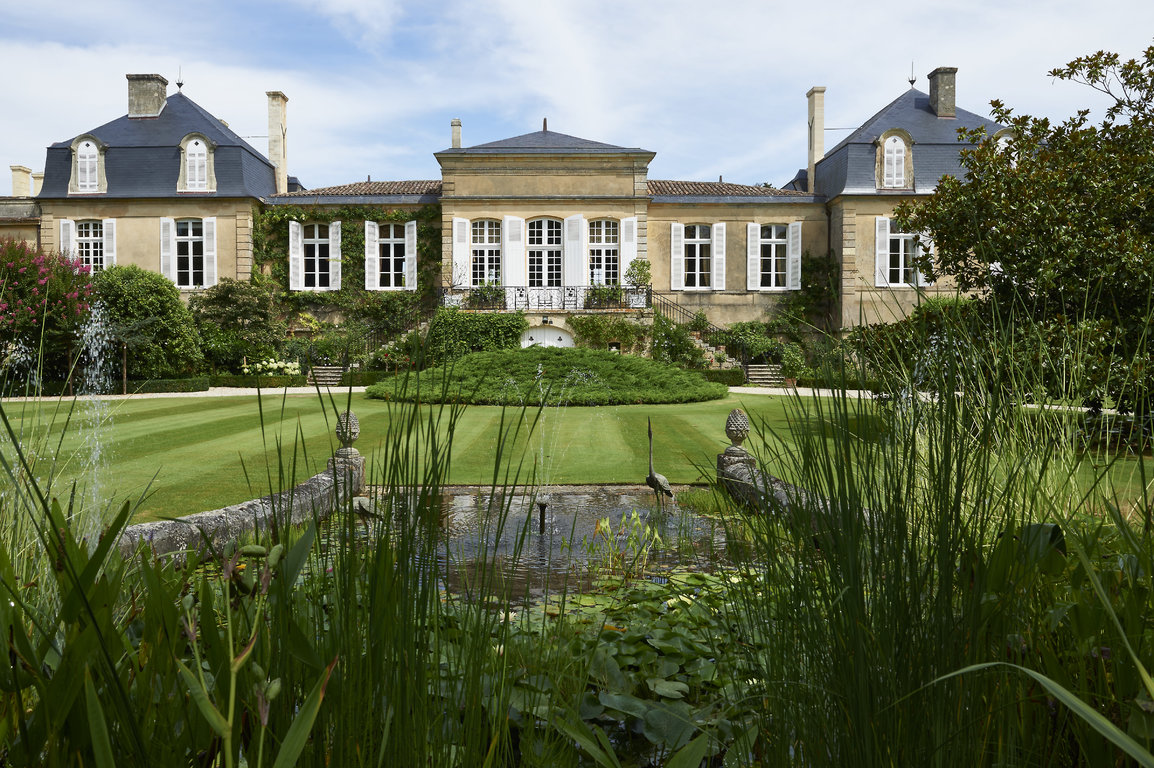 Chateau Langoa Barton (Copyright Furax)
You will find Leoville and Langoa Barton on famous D2 road, called "Rue des Chateaux". After you pass Beychevelle on the left side of the road and Branaire on the right, coming from Bordeaux, you continue straight and after a few kilometres, you enter the village of Saint Julien. Soon you see the signs, Leoville and Langoa Barton. Leoville Barton is the first Leoville you will see as the other two (Las Cases and Poyferre) are app. 1 km distance north.
Bartons came to Bordeaux from Irland in 1772, created negociant company Barton & Guestier (still operating today) and in 1821 they purchased chateau and vineyard in Saint Julien, which they named Langoa Barton. Shortly after they acquired another vineyard neighbouring Langoa and named it Leoville Barton. However, this vineyard did neither have chateau and winemaking facilities. Therefore, both Leoville Barton and Langoa Barton are made at the last mentioned. They were classified as 2nd respectively 3rd Growth in 1855 classification.
Both properties are overlooking banks of Gironde river and therefore ensured stable microclimate and minimal risk of frost affecting their vineyards. Both are vinified by classic principles without modern gimmicks. You'll not experience a high level of alcohol here - it barely exceeds 13% here. Both are matured in 60% new oak for a period of 16 to 18 months. Leoville Barton covers 47 ha of vines while Langoa covers 25 ha.
Both wines are very classic and stylish cool climate Bordeaux wines made for long keeping, with Langoa being more elegant than Leoville because of larger content of Merlot in the blend (18% versus 38%).
One important thing - both wines are more than reasonably priced!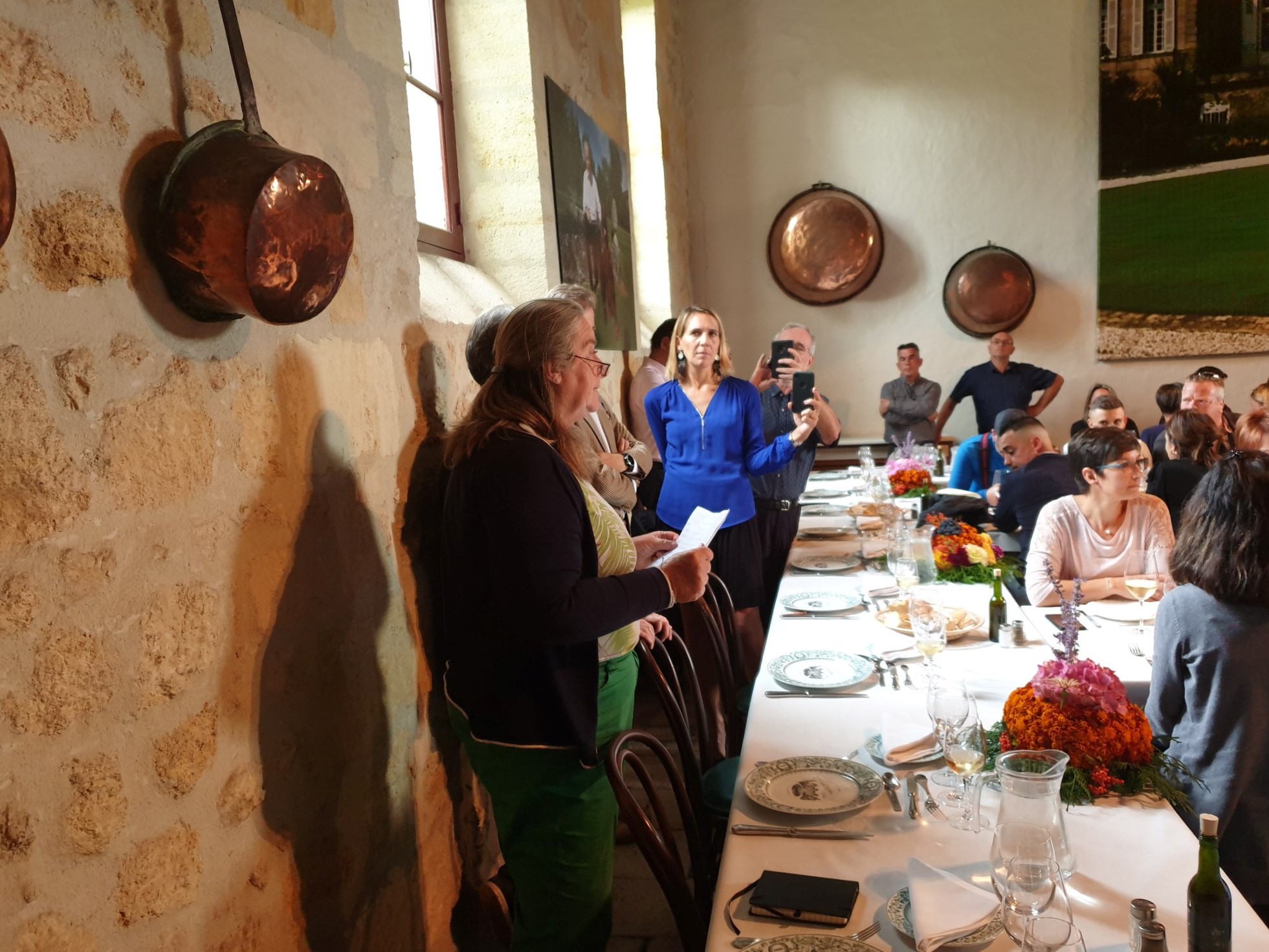 Lilian Barton Sartorius speaking to an audience of administrative staff and harvesters on the occasion of Gerbaude lunch, which symbolise the end of the 2019 harvest. Took place on the 10th of October 2019.
-----
2018 Leoville Barton (barrel sample) 96+p
Tasted three times - last time in October 2019. Consistent notes. 82% CS + 18% M. 13.08% alcohol. Best wine of recent vintages, that's for sure. Reminds in the whole the stunning 2016, but here we have extra layers of concentration and the wine is more massive. Stupendous style!
2017 Leoville Barton 94p
Tasted twice - last time in October 2019. Consistent notes. 93% CS + 7% M. 13% alcohol. Elegance and finesse here, lighter and softer than 2018 and 2016. Really seductive with a smooth fruity finish. Tasty. Splendid effort for the vintage.
2016 Leoville Barton 96p
Tasted three times - last time in October 2019. Consistent notes. An identical percentage of CS and M as in 2015 vintage. More aristocratic than 2015, more stylish too, silkier, great complexity and structure, big depth and length. Sophisticated and rich. Impressive stuff.
2015 Leoville Barton 95p
Tasted three times - last time in October 2019. Consistent notes. 86% CS + 14% M here and only 13% alcohol. Strong, meaty and corpulent, perfectly ripe fruit and tannin, great complexity and style. Textbook Saint Julien wine.
2013 Leoville Barton 89p
Tasted in October 2019. Not the vintage to be remembered for a long time. Fruity and tasty wine here, which should be consumed quickly before it reaches its 10th birthday. Easy going wine with attractive fruit.
2012 Leoville Barton 93p
Tasted in September 2019. Incredibly captivating wine with lots of lush, tasty and well-defined fruit, deliciously soft tannin and splendid aroma of blackcurrants and violets. This is 100% Bordeaux and this wine will make customers thrillingly happy in the restaurant!!
2011 Leoville Barton 90p
Tasted in September 2016. Surprisingly quite forward in development, drinkable, round and charming, sweet cherry fruit and tasty tannin. Very, very attractive wine.
2007 Leoville Barton 88p
Tasted in September 2013. A very nice, attractive and charming wine with good stuffing, light fruit and tannin and soft finish. Very enjoyable to drink right now.
2006 Leoville Barton 92p
Tasted in September 2013. Better ripeness of fruit, better structure and longer on the palate than 2007. Quite well-integrated tannin and fine balance. Complex. Fine effort.
1985 Leoville Barton 95p
Tasted in November 2015. Dark in colour, powerful, blackberry/blueberry compote, strong tannin to support the fruit, Sheer power here instead of elegance and finesse, with a sophisticated touch. This wine is something of a beast and will probably keep without any problems for another 20 years.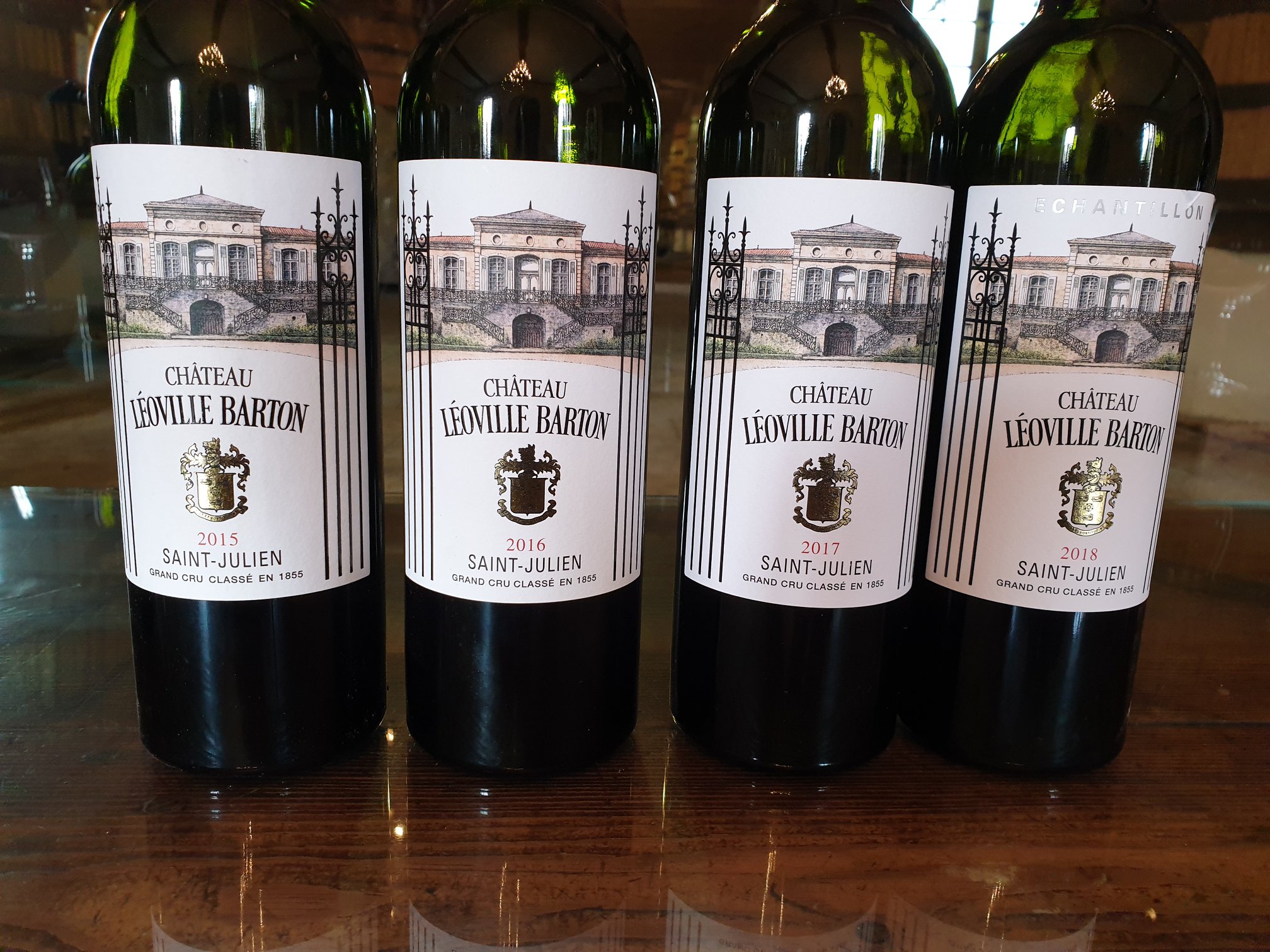 -----
2018 Langoa Barton (barrel sample) 93+p
Tasted three times - last time in October 2019. Consistent notes. 63% CS + 28% M + 9% CF. 13.85% alcohol. Massive on the nose and palate, very evident flavour of grilled bacon, very complex and sappy, splendid structure, fat and long. A very stylish and complete wine.
2017 Langoa Barton 92p
Tasted twice - last time in October 2019. Consistent notes. 54% CS + 38% M + 8% CF. Fresh, elegant and seductive, quite corpulent and complex. Tasty blackcurrants. Really fine winemaking here.
2016 Langoa Barton 93+p
Tasted twice - last time in October 2019. Consistent notes. 55% CS + 37% M + 8% CF. Fresh, noble and aristocratic, silky texture, sophisticated with great complexity and length. Simply fabulous wine.
2015 Langoa Barton 93p
Tasted twice - last time in October 2019. Consistent notes. 54% CS + 38% M + 8% CF. Red fruit, aromatic, silky, complex, seductive, smooth fruity finish. A great style here.
2014 Langoa Barton 91+p
Tasted in October 2019. A bit austere with aromatic black fruit, strong backbone, fine acidity and meaty finish. One to keep for 10+ years.
2009 Langoa Barton 93p
Tasted twice - last time in September 2019. Consistent notes. Sweet nose and palate of ripe blackcurrants and cherries, very attractive, strikingly fine acidity, well-structured and with a long fruity finish. A seductive effort by all means.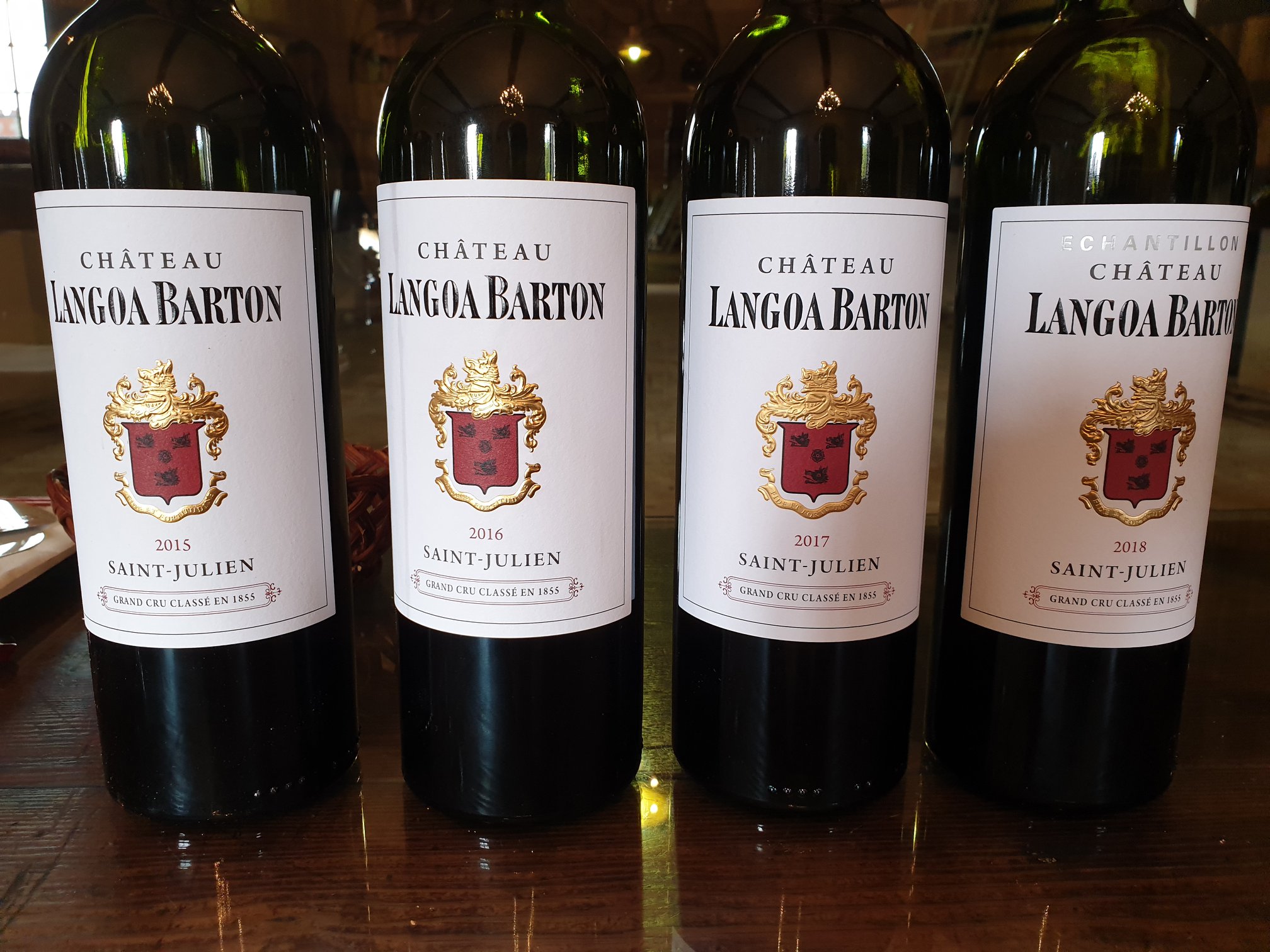 -----
Mauvesin was purchased by Barton family in 2011. After purchase, a family name Barton was added to the existing name of the property and all the facilities and chateau itself have been renovated and modernised. It's situated in commune Moulis-en-Medoc and there is 51 ha of planted vines. Mauvesin Barton is the home of the present owner, Lillian Barton Sartorius, her husband Michel and their children, Melanie and Damien. Melanie Barton Sartorius did study at the wine university in Dijon (Burgundy) and has obtained a national diploma of oenology. She's very much involved in winemaking at Mauvesin Barton.
2018 Mauvesin Barton (barrel sample) 91p
Tasted in October 2019. 54% M + 39.5% CS + 6.5% CF. 13.56% alcohol. Big scaled wine, very similar to 2016 vintage here, just a bit more concentrated and more complex. Splendid effort.
2016 Mauvesin Barton 90p
Tasted in October 2019. 47% M + 28% CS + 18% CF + 7% PV. 13.5% alcohol. Strong yet playful, fresh, splendid complexity and backbone, meaty finish, tasty raspberries and blackcurrants, well-balanced and with fine length. Splendid effort.
2015 Mauvesin Barton 90p
Tasted in October 2019. 42% M + 38% CS + 16% CF + 4% PV. Fresh, sappy and juicy, delicious berry fruit and grained tannin, very tasty and very attractive wine, persistently fruity finish. Drinks extremely well.