SPLENDID AND STABLE PERFORMER WITH PURE ELEGANCE AND FINESSE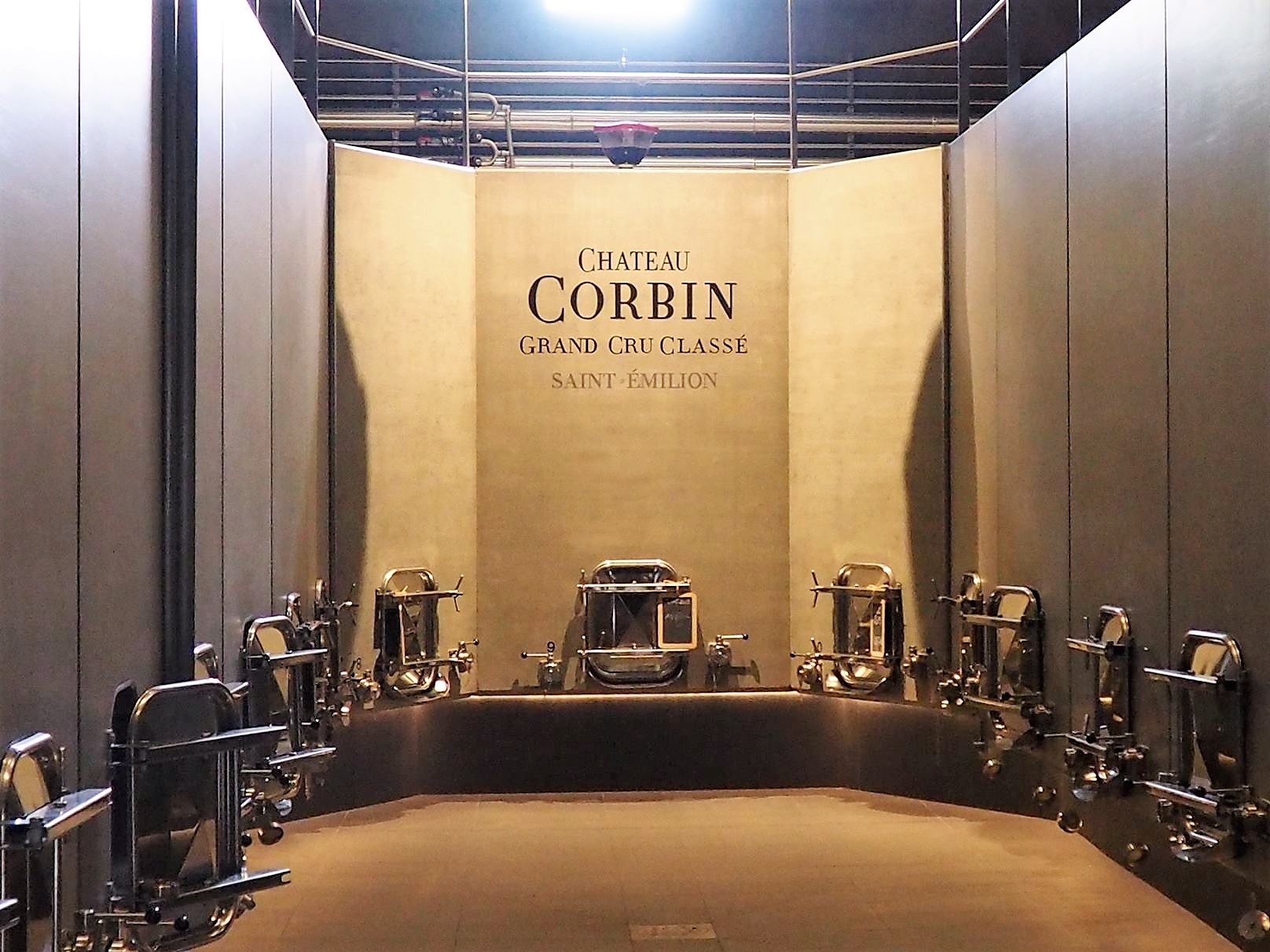 New cellar since July 2016
I met Anabelle Cruse Bardinet for the first time in May 1996 at Chateau Grand Corbin. According to my appointment, I should wait there to be driven to Chateau Certan Giraud, owned like Corbin by Domaines Giraud (her uncle). It turned out that there was some misunderstanding, because I should've been waiting at Chateau Corbin. Anabelle had just landed at Certan Giraud after finishing full oenology studies at vinuniversity in Talence (Michel Rolland's class), working at several wineries around the world and helping famous Mother Theresa during one year.
At Certan Giraud, she took care of the vineyard and promoting things, while her nephew Emmanuel made wine. Two years later (1998), Certan Giraud was sold to Christian Mouiex and renamed Hosanna.
In 1999, her uncle put Chateau Corbin in Corbin sector in St.Emilion for sale. Anabelle Cruse Bardinet had allied with her two sisters and the trio bought the property. Several years after purchase, she's become the sole owner. She finished vinification of 1998 and started cleaning and replantation of the vineyard, modernisation of chateau and cellars. In July 2016, a new cellar with stainless steel vats has been revealed.
Corbin is situated in the hamlet (lieu-dit) of Corbin, some 2 kms west for Catusseau and border of Pomerol. Neighbors to Corbin are Grand Corbin Despagne, Corbin Michotte and Grand Corbin. There are 13 ha of vines, planted with 80% Merlot and 20% Cabernet Franc, vines are on average 30 years old. Soil is both sand on layer of clay and iron, and clay one.
Anabelle Cruse Bardinet makes very stylish wine at Corbin, true St.Emilion one, pretty wine with a lot of elegance, finesse and precision. Never overblown wines, overextracted and overpowered with tannin. Since 2006 she's worked with oenologist Jean-Philippe Fort, associated with Michel Rolland and this cooperation's pushed Corbin higher up in quality level. Imho she's started to steer Corbin in the direction she wanted with vintage 2005. It's worth mentioning, that Corbin is very reasonably priced too!
-----
2018 Corbin (barrel sample) 95p
Tasted in April 2019. Big, fleshy, corpulent wine with striking complexity, structure and long persistent finish. I could taste slight change of style here towards more concentration and more vibrancy here than before. Probably the best vintage ever for the owner, Anabelle Cruse Bardinet. Whopping 15% alcohol here, but it's completely "eaten" by fat fruit and frankly said, you can't feel the alcohol!!
2017 Corbin - not produced due to entire vineyard hit by frost in April 2017.
2016 Corbin 94+p
Tasted twice - last time in April 2019. Consistent notes. This wine was an excellent thrill! New cellar with vats for each parcel was ready for 2016 harvest and allowed much more precise and individual vinification in that vintage. This wine had great aromas of violets and blueberries, very subtle and distinguished, great complexity and balance, great precision, elegance and finesse.
2015 Corbin 93-94p
Tasted twice - last time in April 2019. Not consistent notes. Grand Vin represents 90% of whole production. It was powerful and concentrated with silky fruit and tannin, aromatic and well-balanced, distinguished and very complex. Stupendous effort for the vintage. This wine was somewhat diffused in April 2019, but I think it was faulty bottle.
2014 Corbin 92p
Tasted three times - last time in March 2017. It impressed with seductive sweetness and elegance, finesse and splendid acidity. Fresh and well-defined wine. Precise winemaking.
2013 Corbin (barrel sample) 89p
Tasted in April 2014. Anabelle Cruse Bardinet was satisfied with her 2013, but said making of this vintage wasn't for faint-hearted. This wine had fruity nose of cherries and raspberries, freshness, some minerality, silky tannin, good balance and soft finish. Very good effort.
2012 Corbin 90-91p
Tasted three times - last time in April 2015. Consistent notes. This wine seduces the audience with violets and black fruit, elegance, well-integrated tannins and silky finish. Light-footed but fine effort for the vintage.
2011 Corbin 91p
Tasted three times last time in April 2015. Consistent notes. Deeper and more concentrated than 2012, longer on the palate. Tannin is a bit coarse here but it will integrate with fruit later on.
2010 Corbin 93p
Tasted three times - last time in March 2014. Consistent notes. It had deep aromatic nose of black fruit, fatty and velvety tannin, very long and concentrated palate with fatness and very long finish. Great class and style here and this wine fully mirrors its owner's personality.
2009 Corbin 92-93p
Tasted twice - last time in April 2012. Consistent notes. Great aroma of chocolate, sweet fruit, splendid balance and velvety tannins, all dressed up with great elegance, finesse and kind of sophisticated touch. Heartbreaker wine.
2008 Corbin 90-91p
Tasted twice - last time in April 2012. Consistent notes. It displayed significant aroma of black cherries, fine concentration, splendid balance and was well-structured. Smooth aftertaste.
2007 Corbin 87p
Tasted in October 2009. Attractive on the nose, round with ripe (!) fruit, well-balanced with fine concentration and depth. Very enjoyable but I don't think it will pass 10 years mark like that.
2006 Corbin 87p
Tasted in October 2009. Similar to 2007, slightly more concentrated and with slightly longer finish.
2005 Corbin 93p
Tasted twice - last time in April 2013. Consistent notes. This wine was a great thrill to taste and with very close connections to its 5 years younger sister. Very aromatic black cherries and blackberries/blueberries, very complex, fat and ripe tannin, powerful and full of finesse at the same time. Very impressive effort indeed.
2004 Corbin 87p
Tasted in October 2009. Spicy fruit here, elegant and aromatic, good concentration and length.
2003 Corbin 88p
Tasted in October 2009. Slightly warm fruit on the nose but the wine is just fine. Elegant stuff with bite and round aftertaste.
2002 Corbin 86p
Tasted in October 2009. Not perfectly ripe fruit but very good intensity, depth and length.
2001 Corbin 87p
Tasted in October 2009. Nice intensity of raspberries and cherries, pretty wine, elegant, charming and round.
2000 Corbin 88-89p
Tasted in October 2009. Very intense on the nose, tasty black fruit, meaty with splendid balance and smooth aftertaste.
1998 Corbin 85p
Tasted five times - last time in April 2011. Consistent notes. Quite light, soft, round and charming. Past its prime.