THE BEST WINE IN ST. JULIEN AND OF 1. GROWTH QUALITY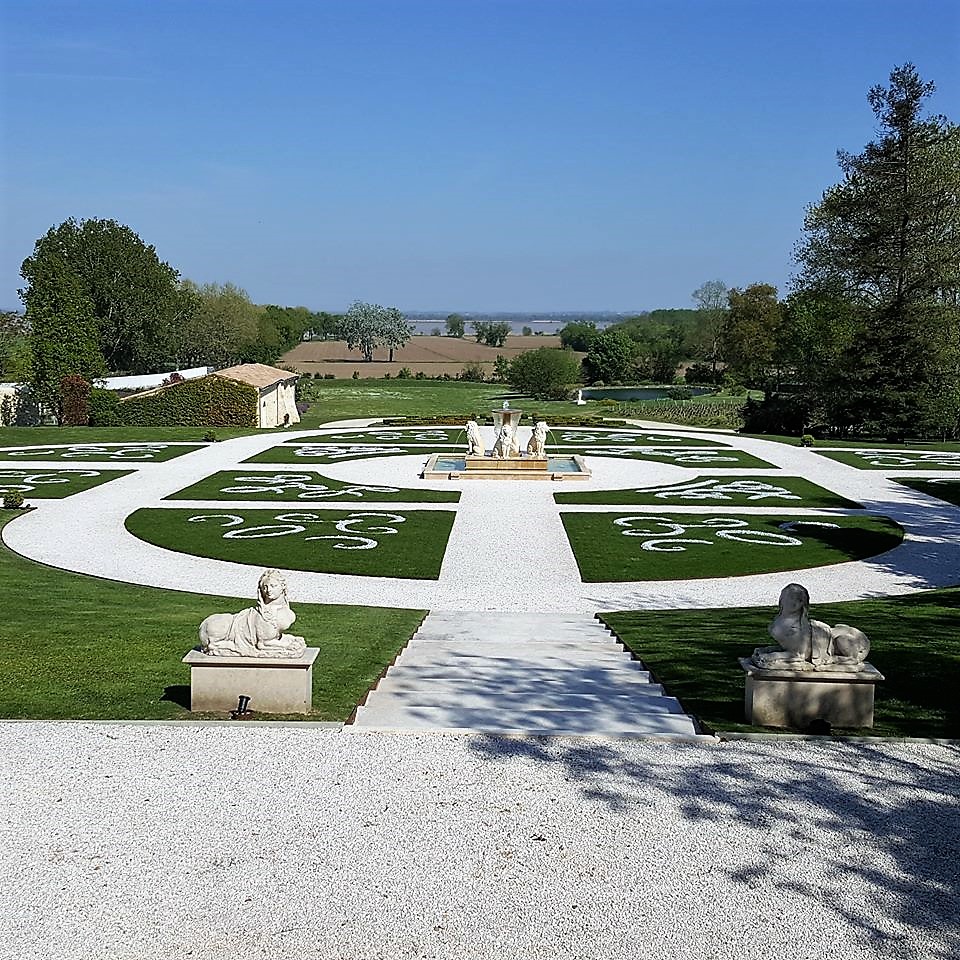 Garden/backyard of Leoville Las Cases - April 2017
Leoville Las Cases offices and cellars you will find on the left side of "Route de Chateaux" after you pass the village of St.Julien on your way to Pauillac. In the same complex of the buildings but on the right you see the offices of Leoville Poyferre. Longer down the road on the right, there's big sign over the big wall with Leoville Las Cases "written" on it. Behind this wall you have the vineyard of Leoville Las Cases.
Leoville Las Cases has 98 ha big vineyard, planted with 66% Cabernet Sauvignon, 24% Merlot, 9% Cabernet Franc and 1% Petit Verdot. Soil here is mainly gravel and gravel mixed with sand on the bed of clay/sandy clay. Due to nearby Gironde river, frost is very rare guest here. This extremely advantageous location creates excellent microclimate.
Leoville Las Cases is a powerful and tight wine with truly remarkable structure, complexity and length. It often gives 1.Growths in Bordeaux run for their money. For me it's more characteristics of neighboring commune of Pauillac than of St.Julien. In 2015 and 2016 vintages LLC has really shown what is capable of!!
LLC vintages 1989, 1996, 2000, 2001, 2003, 2004 and 2012 came directly from LLC cellars for the tasting in September 2017 together with Clos de Marquis 1995,2005 and 2009, 2. vin til CdM, Petit Lion du Marquis de Las Cases 2009, Nenin 2007 og 2010, and Potensac
------
2016 Leoville Las Cases (barrel sample) 98p
Tasted in April 2017. 75% Cabernet Sauvignon, 14% Merlot and 11% Cabernet Franc. Twin brother of 2015 vintage, but more distinguished and with more elegance. Bull's eye once again!
2015 Leoville Las Cases (barrel sample) 97-98p
Tasted in April 2016. 85% Cabernet Sauvignon, 6% Merlot and 9% Cabernet Franc. Monster wine here, fabulous nose of dark berries, extremely concentrated, deep and long on the palate, remarkable acidity, sophisticated and with mega, mega long finish. Bull's eye! 97-98p.
2014 Leoville Las Cases 95-96p
Tasted in April 2017. Very impressive for the vintage, powerful and strong, precise, great complexity and richness, sublime finish.
2012 Leoville Las Cases 94p
Tasted twice - last time in September 2017. Consistent notes. Great black fruit aroma on the nose and polished tasty fruit on the palate. Very accesible right now /september 2017). Precise and focused, great complexity and richness, sublime finish. Perfect restaurant wine. It'll keep for a long time.
2004 Leoville Las Cases 94p
Tasted in September 2017. Aromatic and very complex, excellent structure and very long finish. Splendid balance. Lot of style here. A keeper.
2003 Leoville Las Cases 94p
Tasted in September 2017. I rate this wine higher than 2001. There's no sign of heated fruit here despite excessively high temperatures (well over 40 degrees C in the month og August). The yield was half of the normal for the property. Quite intense with well-integrated fruit and tannin, fine sweetness of fruit and splendid complexity. Long aftertaste. At it's peak now.
2001 Leoville Las Cases 93p
Tasted in September 2017. Imho, this wine can't challenge one year younger brother. Quite developped, a bit tight and tannic, some cigar tones, earthy flavors, fine acidity and long firm finish. Could have had some more fruit sweetness.
2000 Leoville Las Cases 98p
Tasted twice - last time in September 2017. Consistent notes. It's been 14 years between my two TNs on this wine and to say it frankly - it hasn't changed that much!! In April 2003, I asked myself, if this wine could match Bordeaux' First Growth. It almost did! With such richness of nuances, concentration, depth and length, this wine could conquer whole world. A masterpiece for 30-40 years lay in the cellar. Jean-Hubert Delon continues in most exemplary way his father's eminent wine-work. Then in September 2017, it still was young as ever, a blockbuster wine with tons of ripe fruit and ripe tannin. This wine can keep forever!!
1996 Leoville Las Cases 96p
Tasted in September 2017. A true classic wine for the property. Powerful with excellent length, structure, great complexity and firm fruity finish. Showcase of C.Sauvignon. Very stylish wine.
1989 Leoville Las Cases 93p
Tasted in September 2017. Well preserved wine, strong with sweetness of fruit, well-balanced, long on the palate with firm finish. Perfect to drink now and in the next 10 years.
1985 Leoville Las Cases 93p
Tasted in November 2015. Strong and powerful, fine acidity, truffles, fine grained tannin, great balance, depth and finish. Despite 30 years on its birth certificate, this wine was fresh as ever and had at least 10-15 more years to go.