A WELL KEPT SECRET OF POMEROL AND ARMAGNAC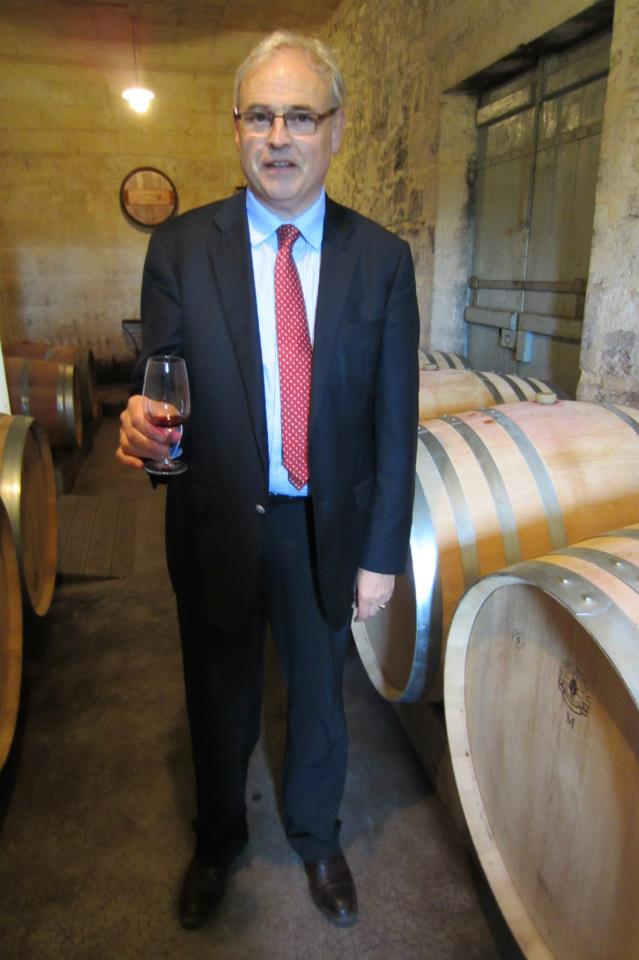 Henri-Bruno de Coincy, owner of Belle Brise since 1992
One of most interesting and longest visits during primeur in April 2013 was at little known property in Pomerol, Belle Brise. Not a single dull moment for 6 hours long visit!
Actually, I already visited Belle Brise in 1996, when I stayed 1 month in Pomerol, collecting material to my Pomerol book. When Jean-Luc Barreau from Certan de May visited Copenhagen in the beginning of 1996 for conducting vertical of Certan de May, I presented him a list of 50-60 properties I planned to visit and he said OK for Belle Brise. I willingly admit that I didn't have great expectation when arriving at this very little known property in Pomerol in May 1996. But the things don't always the way you expect them to, so to my big surprise, the visit at Belle Brise in 1996 turned out to be something quite extraordinary.
Belle-Brise is situated in the south-western corner of Pomerol, just under one kilometer from Libourne centre and a few hundred meters from railway (train Bordeaux-Paris). The soil at Belle Brise is really exceptional - small pebbles and gravel on the surface, 1 m deep layer of clay mixed with "crasse de fer" at the top of chalk layer in the underground. These soil-conditions are very atypical and quite remarkable for this part of the district, section of Réne and Toulifaut on the western side of the N89 road dividing Pomerol in two, where you normally find much sand on the surface and very little of "crasse de fer" in the subsoil. There are 2 ha of 80% Merlot and 20% Cabernet Franc, and average age of vines is 35 years.
When I arrived at Belle-Brise in May 1996, I was welcomed by Henri-Bruno de Coincy, a well-dressed and very energetic gentleman. He is the former bank employee (Banque de Suez in Paris) and bought this property in the beginning of 1991. Belle-Brise is surrounded by a wall and "contains" an extremely well-trimmed vineyard, 80-100 years old rose bushes by the entrance and a cozy house with vinification cellar nearby.
I looked around and noticed an amount of big, new barriques in the corner of the cellar. He is probably the only wine-grower in Pomerol and for that matter in whole Bordeaux-area, who uses these 400 liters big barriques from Armagnac for ageing the wine, and not the usual 225 liters ones. There is no chemical treatment of the vineyard. Late harvest, natural fermentation, no malolactic fermentation in barrels, no clarification with egg-whites and no filtration - this is how things are done at Belle-Brise. 100% artisan winemaking without help of oenologist! The time of the harvest is according to end of full moon (going down – last quarter).
Henri-Bruno de Coincy is a very passionate wine-grower and his way of making wine reminds me a lot of the genius-like Francois Mitjavile from Tertre Roteboeuf. When he bought Belle-Brise – after tip from a good friend and under nose of many foreign buyers - and after seeing the vineyard and its favorable location. He did not know very much about making red-wine. He's made Armagnac together with his father since he was 16 years old, but red-wine is another story. He made a very fresh start and while he worked with 1992 vintage, Philippe Giraud (Certan Giraud) paid him a visit. The guest looked around in the cellar and asked Bruno de Coincy: "What is going on here, what are you doing?". For there was no temperature control by the vats and even no single thermometer in the cellar. Henri-Bruno de Coincy answered immediately: "I am making wine au naturel!". A wine-merchant from Switzerland fell so deeply in love with 1992 Belle-Brise, that he bought the entire production of it.
For some reasons I can't explain, I haven't visited Belle Brise since May 1999 but came back to the property in April 2013. Nothing has changed, Henri-Bruno just got older, but hasn't lost his touch at all and his wines still are fabulous. They have very significant aroma of wild black cherries and incredible balance.
-----
2016 Belle Brise very cherry, very pretty wine, seamless, fresh, excellent acidity, silky fruit and tannin, refined and sophisticated. An excellent Pomerol wine with a touch of modern style. 94+p. Tasted in April 2017.
2015 Belle Brise was very delicate, refined and with tasty black fruit and splendid length, when tasted in April 2016. 93+p. Harvest took one day in the middle of September and imho grapes would have benefitted from hanging one week more on vines before harvest. It was because of coming rain that the decision of harvesting before rain was made. The rain came all right, but didn't cause any damage in Pomerol! In April 2017, it was clear that harvest time was rightfully chosen, because this wine is a fabulous thrill. Incredibly aromatic, velvety, packed with perfectly ripe fruit and tannin, seamless, long and sophisticated. Very dense nose of black cherries. Big upgrade of the score to 95+p!.
2014 Belle Brise didn't reveal imho the qualities it usually has while tasted in March 2015. I believe it was down to cool and rainy weather outside. It seemed like the wine here put "warm" clothes on to protect itself. The rating is maybe a bit optimistic but I believe in this wine. 91-92p+? Revisited and retasted on the 30th September 2015 - back to high acclaim - truffy on the nose with this special flavour of crasse de fer, very stylish and sophisticated, silky fruit and tannin. Simply delicious wine. 93-94p. Almost the same good things in April 2016. 93p. In April 2017, when tasted against 2016 and 2015, you could sense not the same perfect ripeness in 2014. Still, it's very well-made wine, classic stuff. 92-93p.
2013 Belle Brise (barrel sample) had very seductive cherry nose with powerful aroma of grated chocolate, velvety texture with silky ripe fruit and tannin, delicate and sublime on the palate finesse and impressive length. You simply couldn't taste tannin, which was packed in velvet. Impressive balance. Maybe slightly less intense than 2012. Great effort for the vintage. 93p. Tasted in April 2014.
2012 Belle Brise (33% new oak) had seductive cherry nose, velvety texture with silky fruit and tannin, sophisticated touch, finesse and impressive length. You simply couldn't taste tannin, which was packed in velvet. Fabulous balance. Stupendous effort for the vintage. 93p. Tasted three times - last time in April 2016. Consistent notes.
2011 Belle Brise (33% new oak) had incredibly intense nose of black cherries, silky fruit and tannin, finesse and elegance. Great complexity and length here. Very classy and stylish wine. Now in bottle. 93+p. Tasted twice - last time in April 2014. Consistent notes.
2010 Belle Brise (33% new oak) was a fantastic treat with excellent and incredibly intense black cherries, sophisticated palate with fat velvety texture, perfect ripeness of silky fruit and tannin, stunning complexity, structure and length. What an achievement! 96p. Tasted three times - last time in December 2016. Consistent notes.
2009 Belle Brise had same style as 2010, less tight and dense than 2010, more red fruit and less black fruit here, incredible balance. Worth every point of 94p. Tasted in April 2013.
2007 Belle Brise was beautiful wine for the vintage, full of life, silky and velvety. Impressive ripeness of fruit and tannin, structure and length. 92p. Tasted in April 2013.
2005 Belle Brise displayed stunning intensity of blueberries and blackberries on the nose and concentration of same on the palate, very, very truffy, perfect ripeness of fruit and tannin excellent structure and depth, refined and sophisticated, excellent complexity. Almost as impressive as 2010, tannin are less fat here. 95-96p. Tasted three times - last time in April 2017. Consistent notes.
I remember tasting 1993, 1994, 1995, 1996, 1997 and 1998 Belle Brise during visits at the property between 1996 and 1999, and all of them were well-made for respective vintages, without having sharp edges and rough tannin. 1995 and 1998 Belle Brise I would have rated 90-91p, 1996 Belle Brise 89p, 1997 Belle Brise 88p and 1994/1993 Belle Brise 86-87p.
2010 and 2009 of Les Cedres de Belle Brise, Belle Brise's second wine, were very drinkable, seductive and charming, silky stuff again and again. 87p. Tasted in April 2013.
Price of Belle Brise is between 70-100 €/bottle but there's no problem with selling it as there's great demand for it in Singapore, Hong Kong, Japan and Switzerland. Several 3-4 stars restaurant in Paris have it on wine list in many vintages.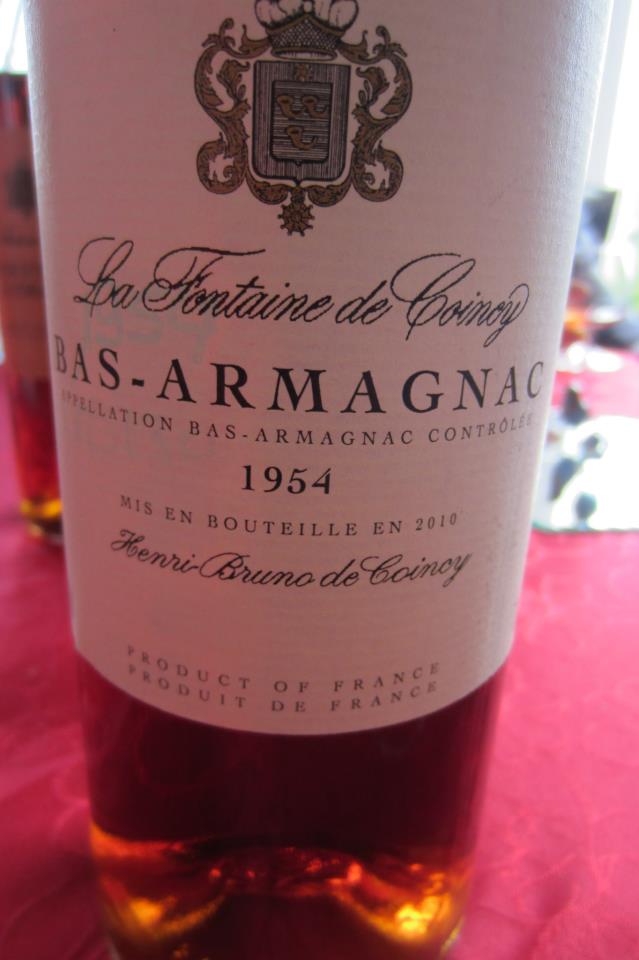 Stunning 60 years old Armagnac tasted in 2014 from Henri-Bruno de Coincy, who also owns Chateau Belle Brise. It was made by his father. His Armagnacs can be as seductive as beautiful women. Before you know you are "trapped".
Since he was 16 years old, he's been producing fantastic Armagnac at family estate in the best part of appelation. De Coincy family has been producing Armagnac for 700 years. Armagnac here undergoes double destillation (since 1973), while most producers there use one destillation. Its name is Fontaine de Coincy and it fetches prices from 200 € and up. He's Armagnac on stock back to 19th century. In April 2013, I tasted heavenly vintages 1979, 1973 and 1954, plus incredibly aromatic and orange influenced Fleur d'Armagnac a l'Orange. Certainly, one of the very best Armagnacs ever produced!
It's strange that recent books about Armagnac don't mention La Fontaine de Coincy at all. Why? It seems to be a well kept secret too for Armagnac afficionados.