STRENGTH, RICHNESS, INTENSITY OF FLAVOURS AND SOPHISTICATED TOUCH AT THE HIGHEST LEVEL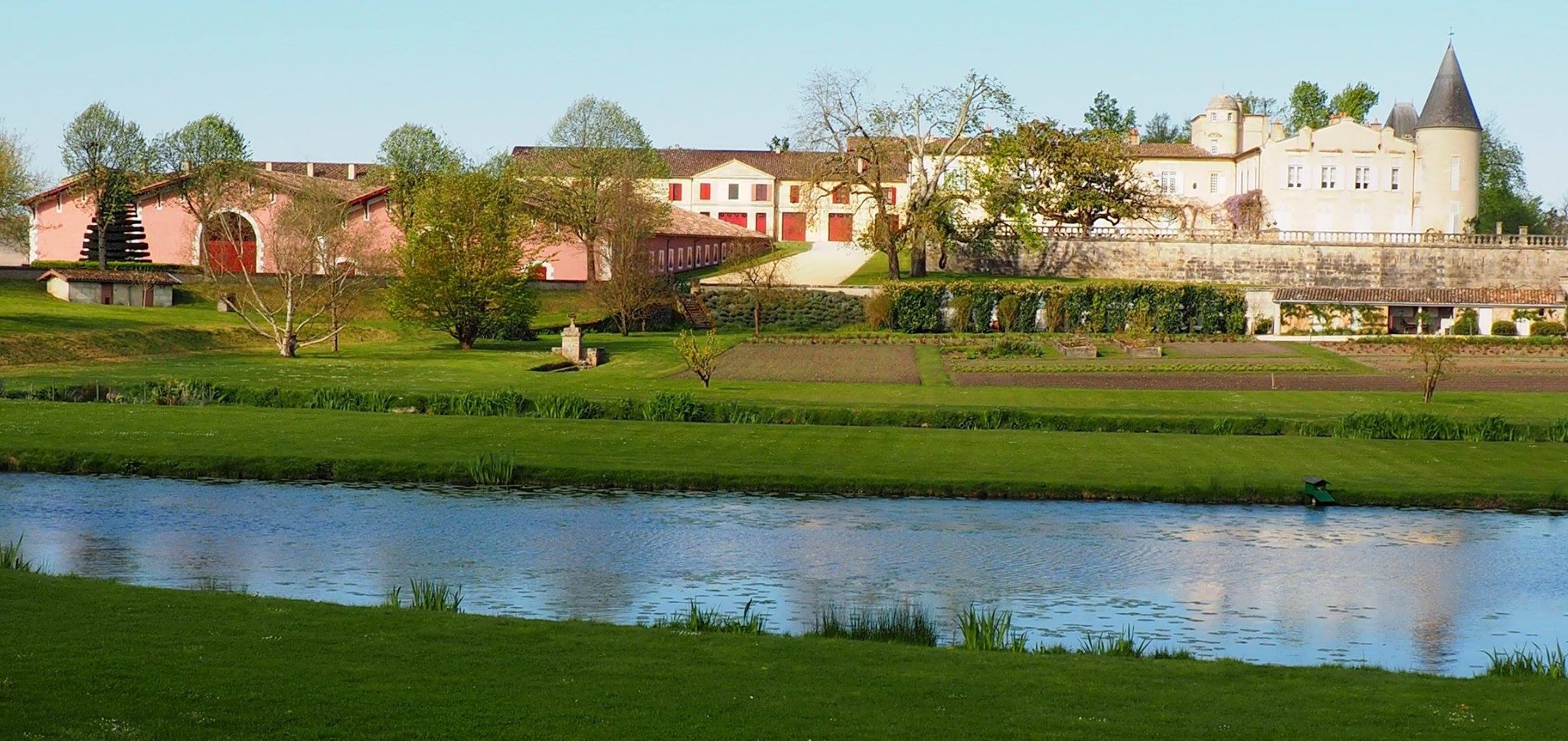 Chateau Lafite with lake, cellars and offices - pictured in April 2016
Lafite Rothschild is one of Bordeaux five 1. Crus and situated most south of all three 1. Crus in Haut Medoc, just before the border of Pauillac and Saint-Estephe. It's on the left side of the road few hundred meters after you pass the lieu-dit Le Puyalet (Pauillac) and you notice a little lake in the front of cellars and chateau seen from the road.
The vineyard consists of three parts: the hillsides around the property, Carruades plateau to the west and 4.5 hectares in neighbouring Saint Estèphe. There are in all 112 hectares with soil consisting of fine deep gravel mixed with sand on a subsoil of limestones. The grape varieties planted are Cabernet Sauvignon (70%), Merlot (25%), Cabernet Franc (3%) and Petit Verdot (2%). The average age of vines used for Grand Vin is around 45 years old and the oldest plot origins from 1886.
Every plot is vinified in separate vats, alcoholic fermentation takes place in both wooden and stainless steel vats, and malolactic fermentation takes place in vats too. Then Grand Vin is kept in 100% new oak for 18 to 20 months.
Lafite Rothschild is a magnifique wine with fantasticly flavoured nose when it gains some age. Cabernet Sauvignon rules here, so this wine can taste very backward and tannic when young, but with some age you find incredible richness, depth and awesome length in this wine.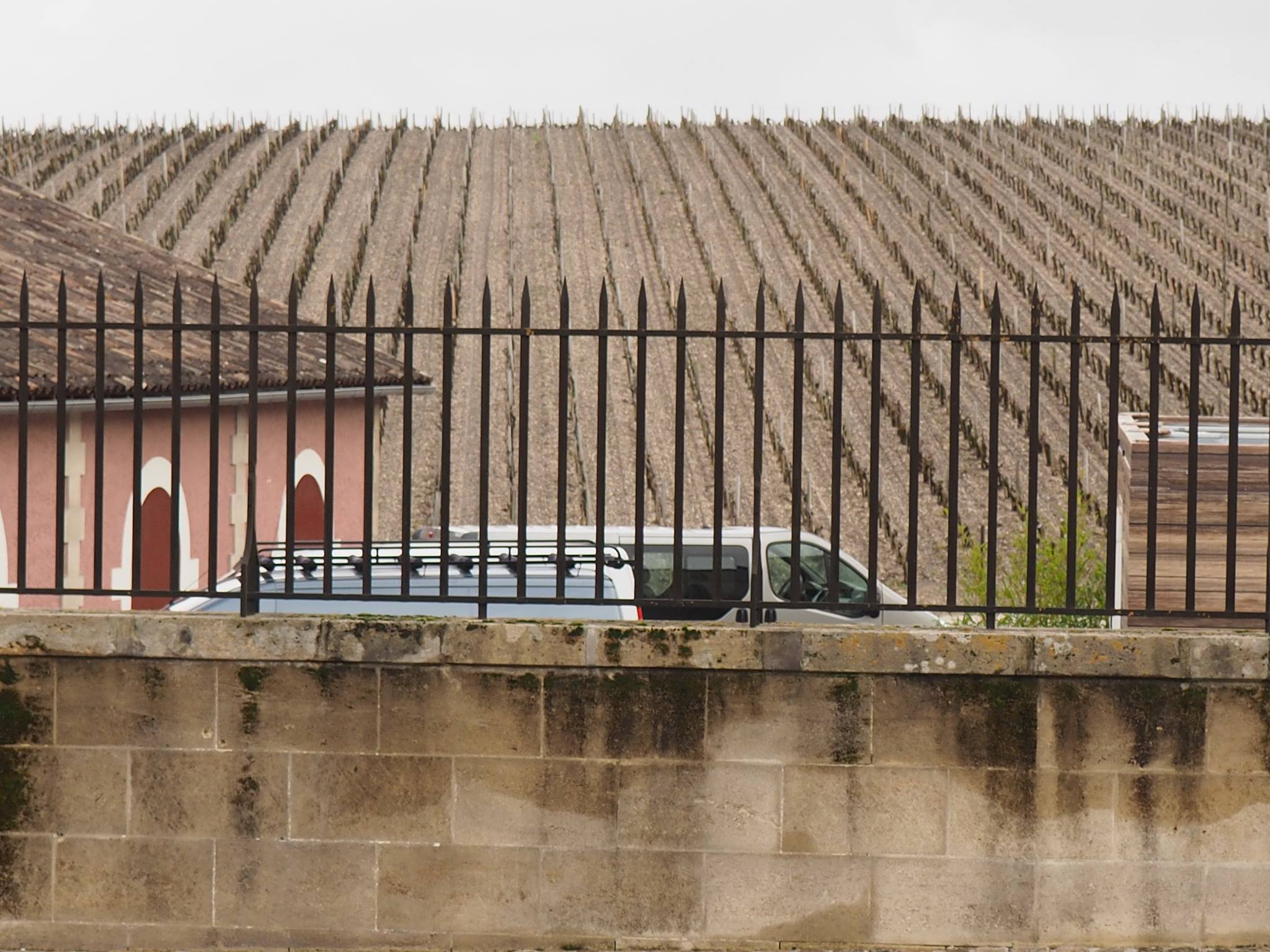 Hilly vineyard at Chateau Lafite - April 2015
Lafite Rothschild 2016 (barrel sample) 98-99p
Tasted in April 2017. 92% Cabernet Sauvignon + 8% Merlot. Incredibly precise, refined and sophisticated, rich and complex, fabulous structure and length. Awesome effort. You'll not be able to find Lafite's striking elegance and finesse many places in Bordeaux!
Lafite Rothschild 2015 (barrel sample) 96-97p
Tasted in April 2016. 91% Cabernet Sauvignon + 9% Merlot. Incredibly refined and sophisticated, rich and complex, fabulous structure and length. Awesome effort.
Lafite Rothschild 2014 (barrel sample) 95+p
Tasted in April 2015 (87% Cabernet Sauvignon, 10% Merlot and 3% Cabernet Franc). Closed and oaky, but there are enough ingredients to turn this wine into a staggering one.
Lafite Rothschild 2013 (barrel sample) 94p
Tasted in April 2014. Significant flavour of graphite (minerality), fine acidity, splendid structure and complexity, richness and great harmony between fruit and tannin. Gentle dose of new oak this time!
Lafite Rothschild 2012 95p
Tasted twice - last time in November 2015. Not consistent notes. Not impressive from barrel when tasted in April 2013, painfully oaky, low-keyed and with rather short finish. I wondered if it would improve dramatically after ageing in oak and being bottled. It certainly did! Incredibly deep and flavoured nose, sheer power and stunning length. Incredibly seductive wine!
Lafite Rothschild 2011 95+p
Tasted twice - last time in November 2014. Consistent notes. Excellently flavoured nose with dark cherries and grated chocolate, sophisticated with finesse and elegance. Lighter than usual, but remarkably complex, refined and long. Seductive stuff.
Lafite Rothschild 2010 (barrel sample) 97-99p
Tasted in April 2011. This wine was strong and powerful, extremely tannic and concentrated, long and with iron
rock structure and mega long aftertaste. One of the best wines of the vintage.
Lafite Rothschild 2009 99p
Tasted twice - last time in January 2017. Consistent notes. Tasted at the tasting of 9 bottles from special case from Duclot negociant (owns Petrus), Bordeaux Collection. Double decanted, served app. 5.5 hours later, different style that his closest rival, Mouton Rothschild. Striking finesse and elegance which this 1. Growth is so famous for, flavors of roasted bacon, cedar wood and tobacco leaves, extremely delicate, refined and long. Perfectly set up wine which surely will reach perfect score in coming years!
Lafite Rothschild 2008 (barrel sample) 95-96p
Tasted in March 2009. Quite backward and tannic but extremely promising, Excellent concentration and length. Needs time to reveal its secrets.
Lafite Rothschild 2007 (barrel sample) 93-94p
Tasted in April 2008. Elegant style, lighter than usual which is understandable because of the history of the vintage. Silky fruit and tannin, well-balanced and quie long finish. To drink before the big vintages are ready.
Lafite Rothschild 2006 (barrel sample) 94-95p
Incredibly well-balanced wine with silky blackcurrants and silky tannin. Refined and sophisticated with many nuances. Diametrally different from the super concentrated 2005 version, but we still have high class here.
Lafite Rothschild 2005 100p
Tasted twice - last time in in May 2008. Dark red. This wine was immense. The first thing I noticed was a simply fantastic nose of perfectly ripe blackcurrants with incredibly aromatic fireworks. It showed an enormous power, length and aftertaste, and was silky everywhere. There was pure elegance and pure sophisticated touch too. True and majestic 1.Growth par excellence!!
Lafite Rothschild 2004 (barrel sample) 96+p
Tasted in April 2005. This was a real thrill. Sublime everywhere with velvety texture, silky tannins, exquisite depth and structure, great length. Racy and sophisticated. For sure it can last for 20-25 years.
Lafite Rothschild 2002 (barrel sample) 96-98p
Tasted in April 2003. What a big range of nuances and what a fantastic aroma of leather, dark cherries and blueberries. Extremely sophisticated and with sensational depth. This wine is knock-out!
Lafite Rothschild 2000 100p
Tasted three times - last time in December 2016. Consistent notes. A legend and perfectionism at phantom level. Here, one's senses were working at highest gear in order to captivate all these fireworks of nuances this wine possesses. This wine is the true essence of Bordeaux – it's unique and not imitable. In full blossoming in December 2016.
Lafite Rothschild 1999 92p
Tasted in September 2002. Pretty nose, full of flavours. Very elegant, refined and complex. Notable effort for the vintage.
Lafite Rothschild 1996 99p
Tasted in June 1998. Very classy stuff, has it all (finesse, richness and length), incredibly complex and deep on the palate, beautifully constructed and with great length. Fantastic effort!
Lafite Rothschild 1985 96p
Tasted in November 2015. Powerful, deep and strong, lots of fruit and tannin, perfect balance and big meaty aftertaste. Not as distinguished as Mouton Rothschild tasted in same flight, but who really cares? Viril and still feeling young. Powerhouse! Many years to go.
Lafite Rothschild 1982 97+p
Tasted in October 1994. Incredibly refined and sophisticated aromas on the nose, aristocratic, fabulous complexity and richness. Simply outstandig wine with 50 years long life.
Lafite Rothschild 1955 96p
Tasted in December 1990. Fantasticly ripe and aromatic nose with finesse and sophisticated touch. Not the powerful wine, rather elegant one like ballerina, very captivating wine.
Lafite Rothschild 1924 95p
Tasted in April 2014 during dinner at Domaine de Chevalier. A blast from the past with incredible nose of truffles, truffy palate too, riveting elegance and remarkable complexity as well. Amazing wine.