2018 IS VERY CLOSE TO BE A VINTAGE OF THE CENTURY BUT ISN'T AS CONSISTENT EVERYWHERE IN BORDEAUX AS VINTAGES 2010 AND 2016 ARE.
STILL AN EXCEPTIONEL VINTAGE IS IN OUR HANDS.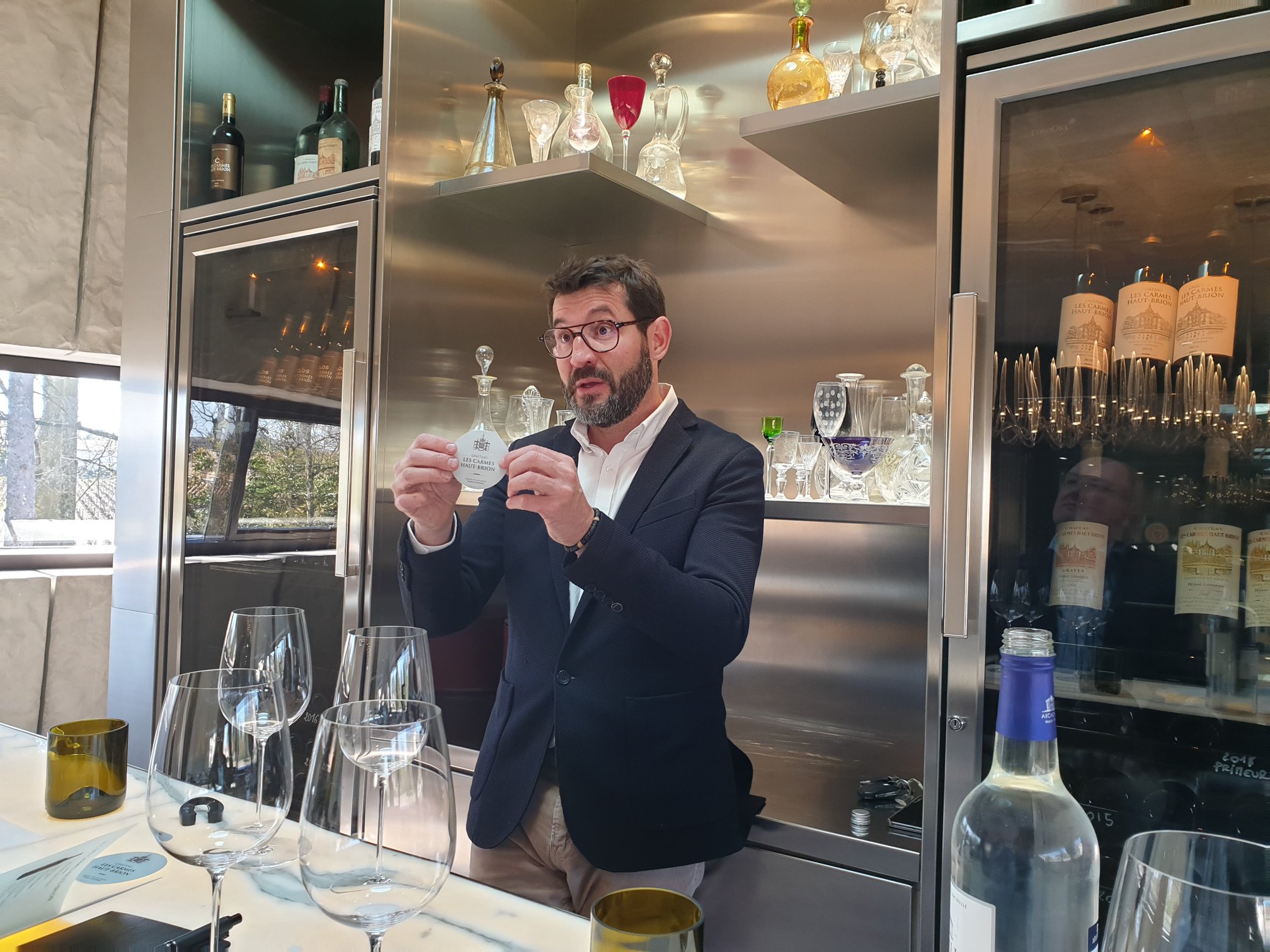 Guillaume Poithier tells us all about the secrets of the vintage 2018, probably the best vintage he's ever made!!
I'd like to refer to what Guillaume Poithier, manager of Les Carmes Haut Brion told me during my visit in the end of March 2019 – "2018 started like a nightmare and finished like a dream. It was vintage of belief – you could choose what you wanted to do with grapes and in which direction concerning vinification you wanted to go".
It was a year of two extremes - a lot of rain in the spring causing quite many outbreaks of mildew, which particulary attacked Merlot and a glorious summer durings months of July, August and September. All these three months were particulary dry and created a fundament for great quality.
Water from the spring showers was well stored in limestone/clay based soils, allowing vine roots to "drink" it when they needed to. Mildew cut production at some chateaux by app. 50% and up to 90% at biodynamicly run properties. Grapes from vines on gravelly soils looked pretty small and thick skinned to me. Warm days and cool nights did once again preserve aromas and freshness.
With long term forecasts promising perfect weather during harvest, there was no need to rush it, but wine growers could risk high alcohol levels if they waited too long. Harvest of grapes in two colors started at normal time in Bordeaux, white finished by mid September and red finished more or less on Right Bank by 5th October, while late ripening soils (f.i. around St.Etienne de Lise) have more or less finished by mid-October. Haut Medoc finished harvest by mid-October.
When I did my annual check of the harvest in October 2018, I noticed that the colour of the mousse (foam) was pink to medium-red, which promised power, huge fatness and big concentration in wines. It was duly confirmed when I tasted them for two weeks during primeur tastings in March/April 2019.
I came a few days before primeur week and stayed few days after primeur week, tasting app. 385 samples of 2018 and app. 50+ wines from other vintages.
This primeur was a bit chaotic for my part as I was forced to reschedule several tastings for reasons beyond my reach and I hadn't been able to do all the tastings I planned due to late changes from tasting venues. Therefore, I did miss several tastings in Saint-Emilion and Pomerol, and tasting Listrac/Moulis wines as well, but anyway I managed to taste close to 400 barrel samples.
2018 is most successful for red wines. White dry white wines aren't as successful as in 2017, 2015 and 2013, mainly because of lack of acidity caused by not entirely favourable weather conditions (too hot up to harvest). For sweet white wines, botrytis came late and there's some lack of acidity and concentration. 2017, 2015 and 2013 vintages are significantly better.
So how is 2018 vintage? It's obvious, that it's winemaker's vintage. They had time to wait during the harvest because weather forecast promised perfect conditions to mid-October. Those who vinified carefully and didn't fall in the trap of harvesting too late or too early, pushing extraction too much and using too much new oak, made really, really fantastic wines. Imho, 2018 in many cases is a mix of 2015 and 2016 added some tannic power of 2010. The big wines will live forever! Some have compared 2018 to 1982, 1998 and 2003 – not relevant imho because of different ripeness, structure and tannin in these older vintages.
Then alcohol levels in 2018 vintage – high in several places but well-covered by thick and fat fruit. The alcohol in 2018 leads some to believe that 2018 is similar to 2009. Imho it's not. Frankly, I don't care about these high alcohol levels in wines, unless they're not balanced by fruit and acidity. Alcohol is naturally produced and not artificially added. Claims that fruit dissappers with age and alcohol stays with age in wine are imho opinion not correct assessments. Just look at 2009 vintage and please tell me in how many wines you find high alcohol levels. Another vintage claimed to be a "high alcohol" vintage, 2015, is imho not particulary showing this right now.
I've also heard some voices about high pH in several wines meaning shorter life span, but I must admit I find the claim quite misplaced as pH in 2018 wines is approximately the same or differ with 0.05 in vintages 2017, 2016 and 2015.
It was also great to see some properties leave more or less the modern way (big extraction and excess of new oak) of making wines and go back to style which express a great deal more character of the soil and traditional style of wine.
My feeling is that Pauillac, Saint-Emilion and Saint Estephe together with Pomerol have been the most consistent wine producing areas in Bordeaux and made the best wines in 2018 among red wines. Margaux, Pessac-Leognan and Saint-Julien are close, but not that consistent as the front runners. However, many lower classified properties made beautiful wines around Bordeaux.
I tasted very few disappointments in 2018 and I seriously doubt there will be more of these after bottling. Having tasted en primeur since 2002 and tasting wines from Bordeaux since 1984, I feel extremely confident about further development of 2018!
RATINGS
Grading of my ratings:
98-100p - perfectly made wines, well on the way to become legends.
96-98p - truly remarkable wine with lot of style and class, great, great potential, fabulously made.
94-96p - very focused wines with great precision, personality and complexity.
92-94p - remarkable wines with style and class.
90-92p – well-made wines with personality and focus.
88-90p - very good quality.
86-88p – just correct wines.
+ after rating means that given wine is better overall than the one without it.
Notice - all wines listed here weren't tasted blind. Many of these have been tasted at Grand Cercle tasting, Vintex tasting, Rolland tasting and of course during visits at many properties.
Sauternes & Barsac:
d'Arche Sauternes 90 Bastor-Lamontagne Sauternes 90 Broustet Barsac 91 Clos Haut-Peyraguey Sauternes 94 Coutet Barsac 92 de Malle Sauternes 92 de Rayne Vigneau Sauternes 94 Doisy Daëne Barsac 92 Filhot Sauternes 92 Lafaurie-Peyraguey Sauternes 96 La Tour Blanche Sauternes 94 Lamothe Guignard Sauternes 90 Les Justices Sauternes 92 de Myrat Barsac 94 Rabaud Promis Sauternes 92 Raymond Lafon Sauternes 95 Sigalas Rabaud Sauternes 94 Suau Sauternes 92 Suduiraut Sauternes 94
I was only able to taste several 2018 sweeties from Bordeaux at Vintex tasting (Chateau Ripeau), where Bill Blatch presented the samples he got from chateaux. Overall, the wines presented themselves very well as it can be seen from my ratings, despite not 100% favourable weather conditions all the year until harvest. Dry summer delayed harvest a great deal, because botrytis cinerea "attacked" grapes quite late. 2018 in Sauternes & Barsac is more or less like 2016, lacks some acidity and depth, but many wines show a great deal of finesse and elegance. However, the recent vintages like 2017, 2015 and 2013 are better than 2018.
Lafaurie Peyraguey was for me the star wine with freshness and finesse, refined and creamy, acacia honey, fine acidity and much focus. I did also taste it at the property with same impression and in addition to it I tasted 2016 and 2013 vintages in sweet and 2015 LP dry.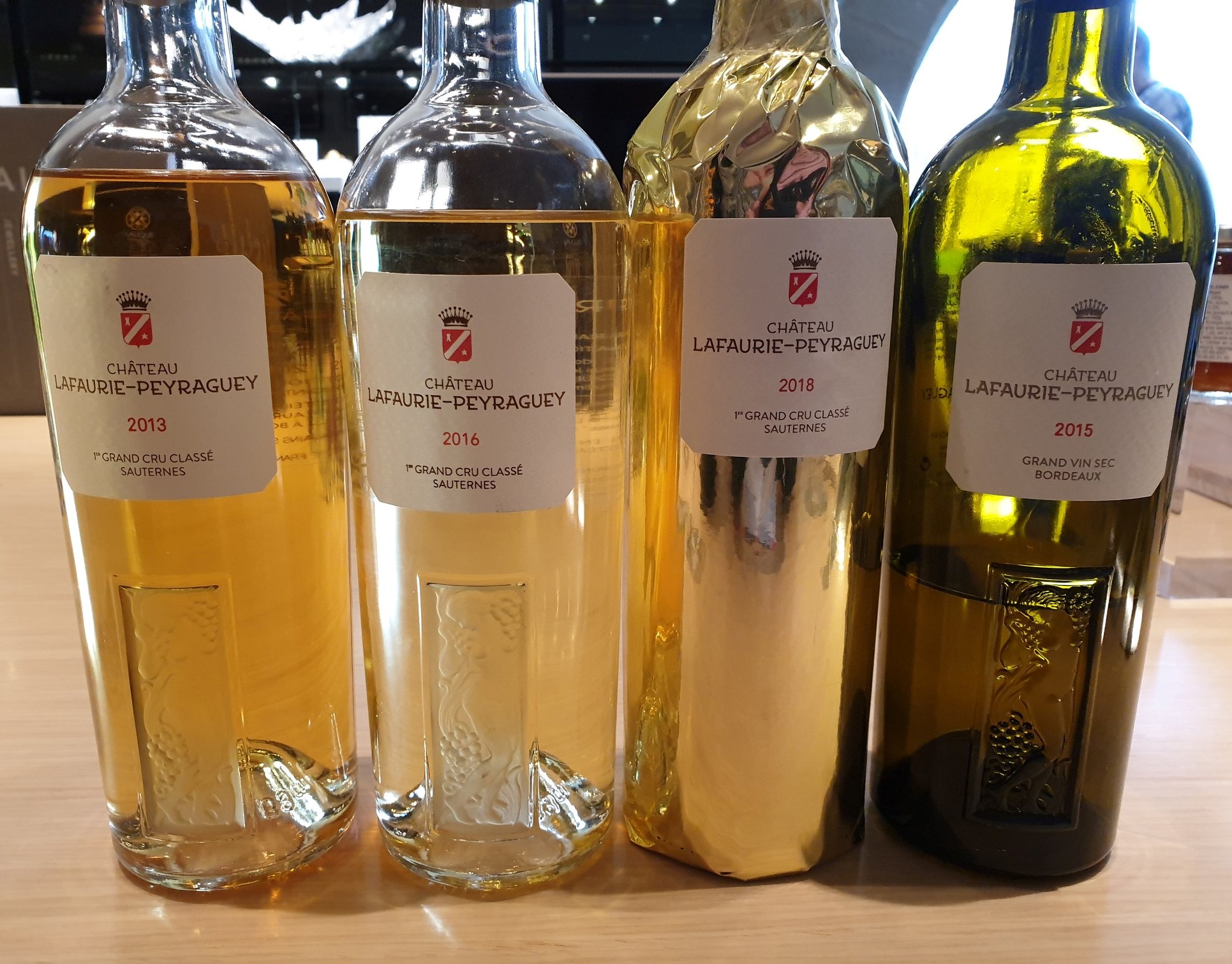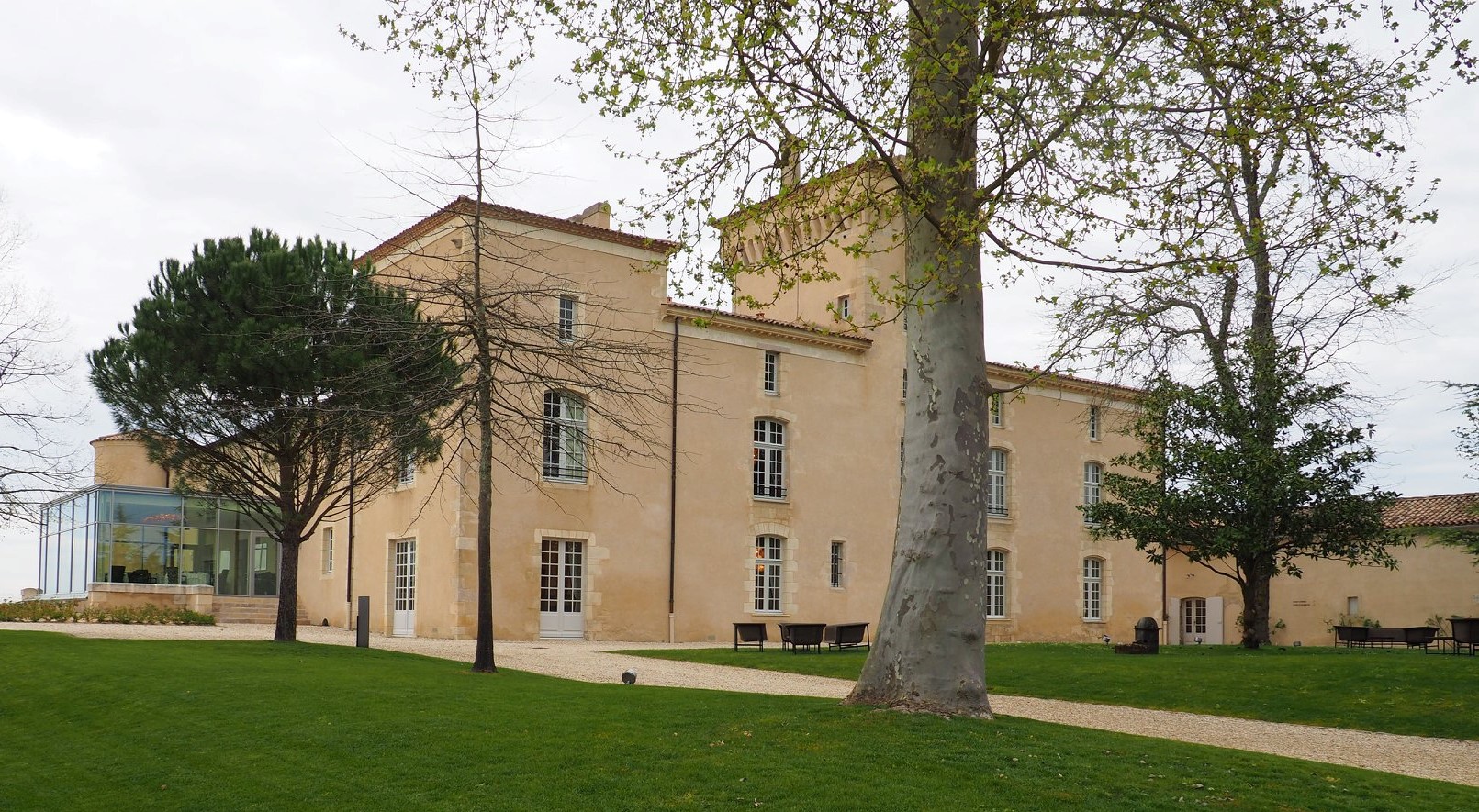 Left - wines to taste. Right - building housing Lalique restaurant
2016 - stylish, elegant, pineapple, acacia honey, finesse, very good acidity. Splendid effort. 94p.
2013 - very intense and aromatic, botrytised flavours in numbers, elegant, honey melon, great complexity and fine acidity. Excellent effort. 97p.
2015 sec - very flowery, acacia flower, citrus, lemon grass, fine acidity and length. 93p.
I'd strongly recommend to stay for lunch or dinner at Lafaurie Peyraguey's Lalique restaurant, after visiting property and tasting its wines. Incredibly well-prepared, tasty, delicate and flavourful food. One Michelin star now but next year it'll be upgraded to 2, that's for sure!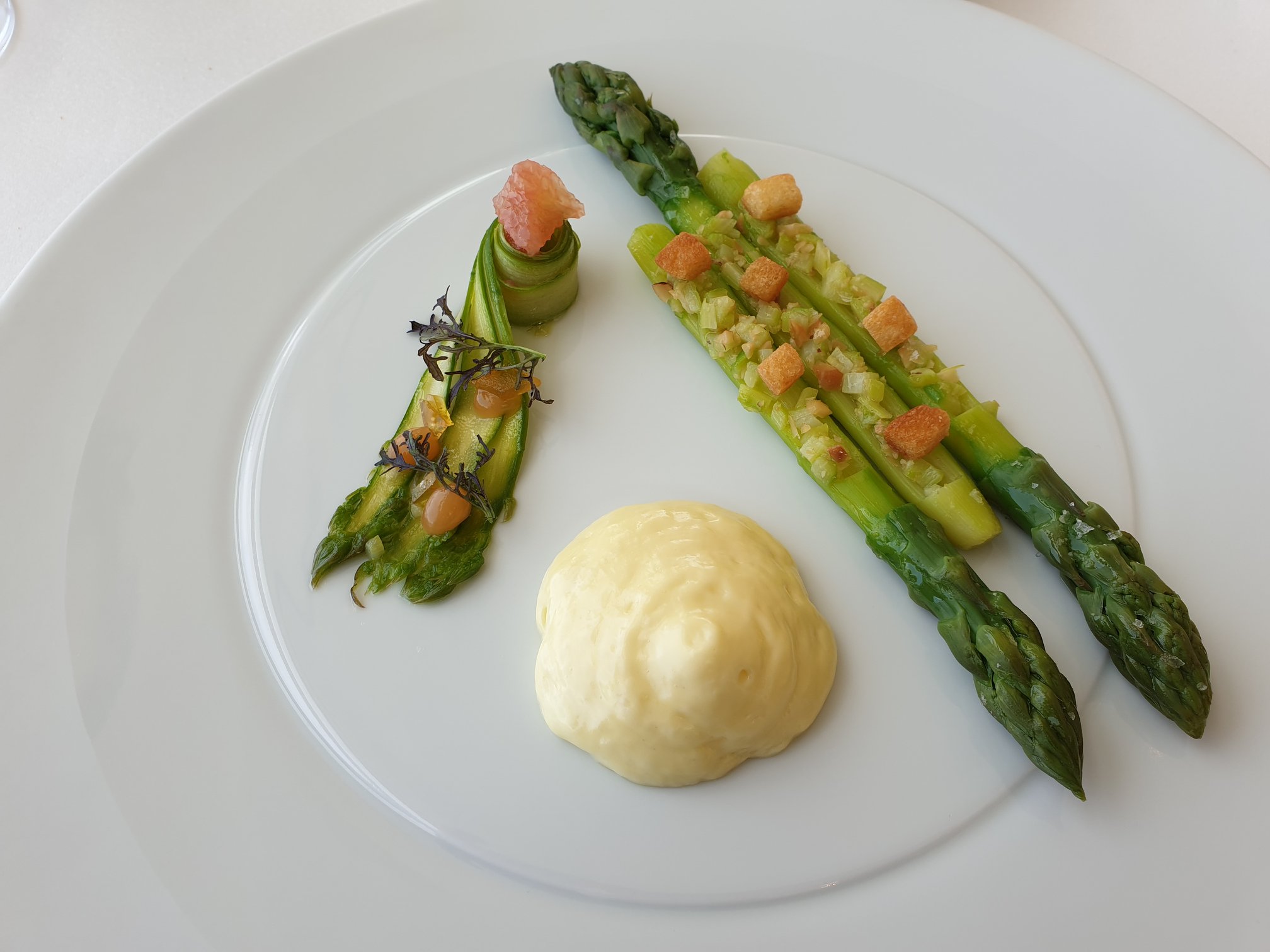 Green asparagus, traditional and modern.
Raymond Lafon produced something close to 2017 with very aromatic wine with flavour of pineapple, guava and mango, elegance, very good acidity, sophisticated touch and long finish. Jean-Pierre Meslier was so kind to let me taste vintages 2017, 2016, 2015, 2014 and 2013.
2017 - very impressive wine filled with freshness, great acidity and sweetness. pear, peach and apricot. 95-96p.
2016 - barely same intensity of botrytised flavours as in 2017 and 2018, elegance, finesse and nice acidity. 93-94p.
2015 - intense and powerful, sweet pineapple, great acidity, fat finish. Excellent. 96p.
2014 - dense and intense, excellent acidity, candied orange peel and brown sugar. Lingering aftertaste. Great effort for the vintage. 94-95p.
2013 - intense, aromatic, refined and sophisticated, fat on the palate, long and creamy, great complexity. Keeps improving every year!! 96p.
Clos Haut Peyraguey, de Myrat de Rayne Vigneau, Sigalas Rabaud, Suduiraut and La Tour Blanche managed to produce wines with great flair, elegance and precision, freshness and nice acidity. Splendid wines.
Coutet, de Malle, Doisy Daëne, Filhot, Rabbaud Promis, Les Justices and Suau made really nice wines with much elegance and finesse, aromatic touch, good acidity and honeyed finish.
At Chateu Gilette I tasted very nice, fresh and aromatic Les Justices, "poor man's" Gilette in vintage 2018. Same property in 2015 vintage showed more intensity and acidity than 2018, more concentration and longer finish. Fat and honeyed aftertaste. 93+p.
Newest release of Chateau Gilette is 1997 and it tasted like honey essence, fresh and very intense, with the hallmark flavour of the property, grilled almonds, then mango and great acidity. Simply stunning! 98p. 1996 from Gilette wasn't as impressive as 1997. In this vintage grapes were dried by wind (passerilage) and not by huge attack of botrytis. Anyway, it possessed very good sweetness, almond flavour, intensity and concentration, very nice acidity and length. 94p.
Yquem didn't offer its 2018 for tasting this time.
Graves & Pessac-Leognan red
Bouscaut Pessac-Léognan 89Brown Pessac-Léognan 87 Cantelys Pessac-Lëognan 92 Clos Floridene Graves 90 Crabitey Graves 87-88 Cruzeau Pessac-Léognan 91-92 Domaine de Chevalier Pessac-Léognan 97 Domaine de la Solitude Pessac-Léognan 91 Gazin Roquefort Pessac-Léognan 92 Haura Graves 90 Haut Bacalan Pessac-Léognan 88 Haut Bailly Pessac-Léognan 97-98 Haut Bailly II Pessac-Léognan 92-93 Haut-Brion Pessac-Léognan 98-100 La Chapelle de La Mission Haut-Brion Pessac-Léognan 92 La Mission Haut-Brion Pessac-Léognan 98-99 La Reserve de Malartic Pessac-Léognan 90 L'Esprit de Chevalier Pessac-Léognan 91 Le Clarence de Haut-Brion Pessac-Léognan 92 Le Pape Pessac-Léognan 91-92 Le Petit Haut Lafitte Pessac-Léognan 92 Le Thil Comte Clary Pessac-Léognan 90 Les Carmes Haut-Brion Pessac-Léognan 98+ Les C de Carmes Haut Brion Pessac-Léognan 92 Les Hauts de Smith Pessac-Léognan 92 Lespault Martillac Pessac-Léognan 92 Malartic Lagraviere Pessac-Léognan 94 Pape Clément Pessac-Léognan 93-94 Respide Medeville Graves 92 Rochemorin Pessac-Léognan 91-92 Roquetaillade La Grange Graves 92 Seguin Pessac-Léognan 94+ Smith Haut Lafitte Pessac-Léognan 95-96
Top wines in this wine districts really shine in 2018 and seem to leave 2016 vintage a bit behind. For the most, they are powerful wines with big concentration, intensity and complexity, but they haven't lost the silkiness of fruit and tannin and the velvety texture.
Haut Brion and La Mission Haut Brion made simply stunning wines. Haut Brion was of course more concentrated and more muscular then LMHB, had awesome structure, fabulous length and striking complexity. Wow! La Mision Haut Brion delivered then riveting elegance, structure and richness. Seamless and incredibly attractive and seductive. Wow again! Both second wines, Le Clarence de Haut Brion and La Chapelle de LMHB made splendid wines, aromatic and silky.
Almost one month's harvest at both properties and Cabernet Franc was harvested both places at the same time as Cabernet Sauvignon, which is quite rare.
Les Carmes Haut Brion continues its progress and 2018 here is just so, so sublime wine! Combines perfectly power and elegance, added riveting richness, complexity and length. Grilled bacon and cigar box. More Cabernet Sauvignon in the blend (34%), normally there's 20%. Less Merlot, 29% (normally 41%), but Cabernet Franc is about the same, 37% versus 39%. 13.75% alcohol, 75% new oak, 16% wooden vats and 9% terracota amphoras, 50% whole bunches used in vinification. Imho, the best vintage Guillaume Pouthier has ever produced at LCHB!
Le C Les Carmes Haut Brion 2018 displayed very seductive approach, blackberries and blueberries in large quantities, fine structure and velvety structure. Immediate attraction here.
Haut Bailly was struck by mildew and hail in growing season and since the vineyard is organicly farmed, the yield per ha did decrease significantly and landed at app. 21 hl. 2018 Grand Vin (55% C.Sauvignon, 35% Merlot, 5% of hhv C.Franc and Petit Verdot) was powerful and concentrated with strong backbone, mineral with obvious graphite flavour, fabulous structure, complexity and length. Exceptional stuff.
2018 Haut Bailly II (new name of second wine instead of La Parde de Haut Bailly), reminded a lot of its big brother, but in less scaled version. Terrific effort!
2018 Le Pape was very nicely constructed, with ripe blueberries and ripe tannin, nice complexity and fine finish.
Domaine de Chevalier - when I visited this property on the last day of 2018 harvest in October, Olivier Bernard told me - "Izak, this is the best vintage of my life!".
The barrel sample of 2018 simply confirmed his words - it's best Domaine de Chevalier under his reign I've ever tasted. Lot of freshness, sweetness-filled ripe blackcurrants, silky tannin, Cabernet Sauvignon shines through with grilled bacon flavour, graphite and tobacco leaves. Very precise and focused.There's a lot of refinement and sophisticated touch here. Long finish. Other 2018s - Domaine de la Solitude was fresh, fruity with good acidity, round and accessible, Lespault Martillac had more power than DdlS, smoky and mineral flavours, nice structure and length, L'Esprit de Chevalier was similar to DdlS.
Smith Haut Lafitte followed the trend in 2018 - copious blueberry fruit, great intensity on the palate, all in silk, sophisticated touch and great complexity with long meaty finish. Impressive.
Cantelys and second wines Les Hauts de Smith and Le Petit Haut Lafite were all splendid in 2018 with intense sweet blueberries, fine structure and depth. Le Thil Comte Clary was attractive and round with tasty fruit sweetnes.
Seguin didn't make 2017 vintage because of devastating frost but came back with vengeance in 2018! Very scented and aromatic nose of blueberries, rich, great complexity and length, elegant and refined. Impressive stuff.
Malartic La Graviere in 2018 displayed a nose full of sweet cherry/blueberry compote, elegance and was so attractive and seductive, that you wanted to taste more and more of it!
2018 Gazin Rocquefort reminded a lot of its big brother with fresh cherries, fine structure, depth and length. Fine interplay between fruit and tannin here. Second wine of Malartic La Graviere, La Reserve de Malartic, had attractive cherry/blueberry nose, velvety texture and seductive approach.
2018 Pape Clement was packed with luscious fruit and fat tannin and had strong backbone, splendid complexity and long finish. Splendid effort for the vintage.
Cruzeau, Respide Medeville and Roquetaillade La Grange made all well-crafted wines, aromatic and concentrated with copious fruit and fat tannin, sleek and well-balanced.
Graves & Pessac-Leognan white:
Cantelys Pessac-Léognan 88 Clos Floridene Graves 91-92 Crabitey Graves 91 Cruzeau Pessac-Léognan 91 Domaine de Chevalier Pessac-Léognan 96 Domaine de la Solitude Pessac-Léognan 91 Gazin Roquefort Pessac-Léognan 92 Haut-Brion Pessac-Léognan 96 Haura Graves 88 La Clarté de Haut-Brion Pessac-Léognan 90 La Mission Haut-Brion Pessac-Léognan 95 L'Esprit de Chevalier Pessac-Léognan 90 Le Petit Haut Lafitte Pessac-Léognan 92 Les Hauts de Smith Pessac-Léognan 91-92 Lespault Martillac Pessac-Léognan 91-92 Malartic Lagravière Pessac-Léognan 94 Respide Medeville Graves 90 Rochemorin Pessac-Léognan 91 Roquetaillade La Grange Graves 91 Smith Haut Lafitte Pessac-Léognan 94
Although 2018 isn't one of the top vintages in white for whole Bordeaux, because of not entirely perfect weather conditions for "white"grape varietes, some splendid to excellent wines were produced. This vintage is similar to 2016 and the culprit is less acidity than in 2017, 2015, 2014 and 2013. Still, some properties managed to have acidity in wines close to the one in 2017.
Domaine de Chevalier
Haut Brion
La Mission Haut Brion
Malartic Lagraviere
Smith Haut Lafitte
Bordeaux, Bordeaux Superieur, Cotes de Bordeaux, Premieres Cotes de Bordeaux and Entre-deux-Mers:

20 Mille Bordeaux Superieur 92+ Perrieres de Lafleur Bordeaux Superieur 93 Aile d'Argent white Bordeaux 91 Bad Boy Bordeaux 90-91 Balthus Bordeaux Superieur 91 ClarendelleBordeaux 89 Clarendelle white Bordeaux 88 Clos des Lunes d'Argent Bordeaux 89 Clos des Lunes d'Or Bordeaux 90 Cos d'Estournel white Bordeaux 93 Croix Mouton Bordeaux Superieur 92 Cru Monplaisir Bordeaux Superieur 91 de Reignac Bordeaux Superieur 91 Domaine des Cambes Bordeaux 92 Grand Village Bordeaux Superieur 92 Grand Village white Bordeaux 90 Le Nardian (white) Bordeaux 93 L'Esprit de Pavie Bordeaux 91 Les Champs Libres (white) Bordeaux 92 Magrez Fombrauge Bordeaux 91Monbousquet white Bordeaux 90 Pavillon Blanc de Margaux Bordeaux 92 Penin Bordeaux Superieur 89 ReautCotes de Bordeaux 92 Reaut white Cotes de Bordeaux 88 Reynon Premieres Cotes de Bordeaux 87 Sainte Barbe Bordeaux Superieur 90 Sainte Marie Vieilles Vignes Entre-deux-Mers87 Valandraud white Bordeaux 92
Several well-made wines in both colours. Description of whites - see comments concerning white Graves/Pessac-Leognan.
Standouts in red:
Croix Mouton, Domaine des Cambes, Grand Village, 20 Mille, Perrieres de Lafleur and Reaut, all were strong and owerful, aromatic, had splendid structure and complexity, dense fruit and tannin. Really fine effort from all!
Bad Boy, Balthus, Cru Monpaisir, L'Esprit de Pavie, Magrez Fombrauge and de Reignac, followed after with well-made wines, however they had less intensity, depth and length than the ones above.
Standouts in white:
Aile d'Argent, Cos d'Estournel, Le Nardian, Les Champ Libres, Pavillon Blanc de Margaux and Valandraud. All being crispy and creamy, fresh, pineapple fruit, green apple, splendid acidity and complexity.
Médoc/Haut Médoc:
d'Arsac Haut-Médoc 89 d'Arcins Haut-Médoc 91-92 Blaignan Médoc 90 de Lamarque Haut-Médoc 91-92 Goulée Médoc 92+ Greysac Haut-Médoc 90 La Cardonne Médoc 90 La Demoiselle de Sociando Mallet 88p La Chapelle de Potensac Haut-Médoc 89 Loudenne Médoc 88 Malescasse Haut-Médoc 91-92 Potensac Haut-Médoc 90-91 Quintessence de Blaignan Médoc 91 Rollan de By Médoc 92 Sociando Mallet Haut-Médoc 95
Absolute star wine here is Sociando Mallet! Its 2018 was powerful with fat fruit and tannin, perfectly ripe, aromatic (chocolate and cocoa powder), great precision and focus, very distinctive on the palate, dense and long, excellent structure, depth and complexity. Great, great success for the vintage! Best ever vintage for this property - I think so!!
Second wine, 2018 La Demoiselle de Sociando Mallet, acted very fruity and sleek, aromatic, with very nice structure and elegant finish.
On my request, sales manager Pascale Thiel and recently appointed property manager, Francois Hugueniot, kindly prepared a tasting of some additional vintages:
2017 had silky texture, velvety fruit and tannin, elegance and finesse. A delicacy to enjoy. 91-92p.
2016 was a sensual wine with splendid concentration, complexity, structure and length. 93-94p.
2015 left me to think that something was missing in the wine. Not typical 2015 imho and maybe in very akward fase. No rating.
2014 was meaty and sappy with splendid acidity and complexity. Firm finish. Very typical for the property. 92p.
2013 lacked some ripeness and had a bit jammy fruit. Light, round and charming. 87p.
2012 was very seductive with tasty with polished fruit and siky tannin. To enjoy now. 89p.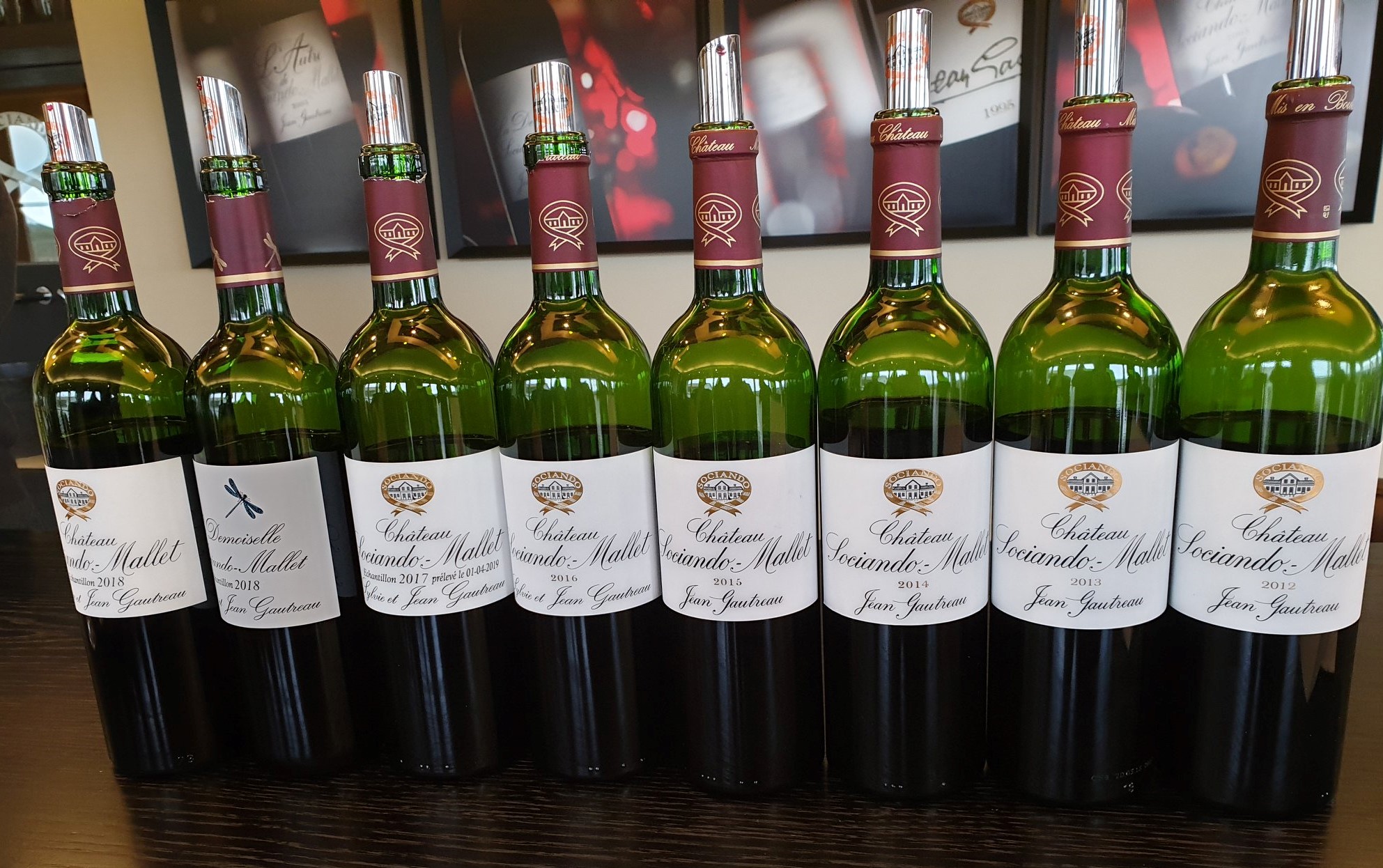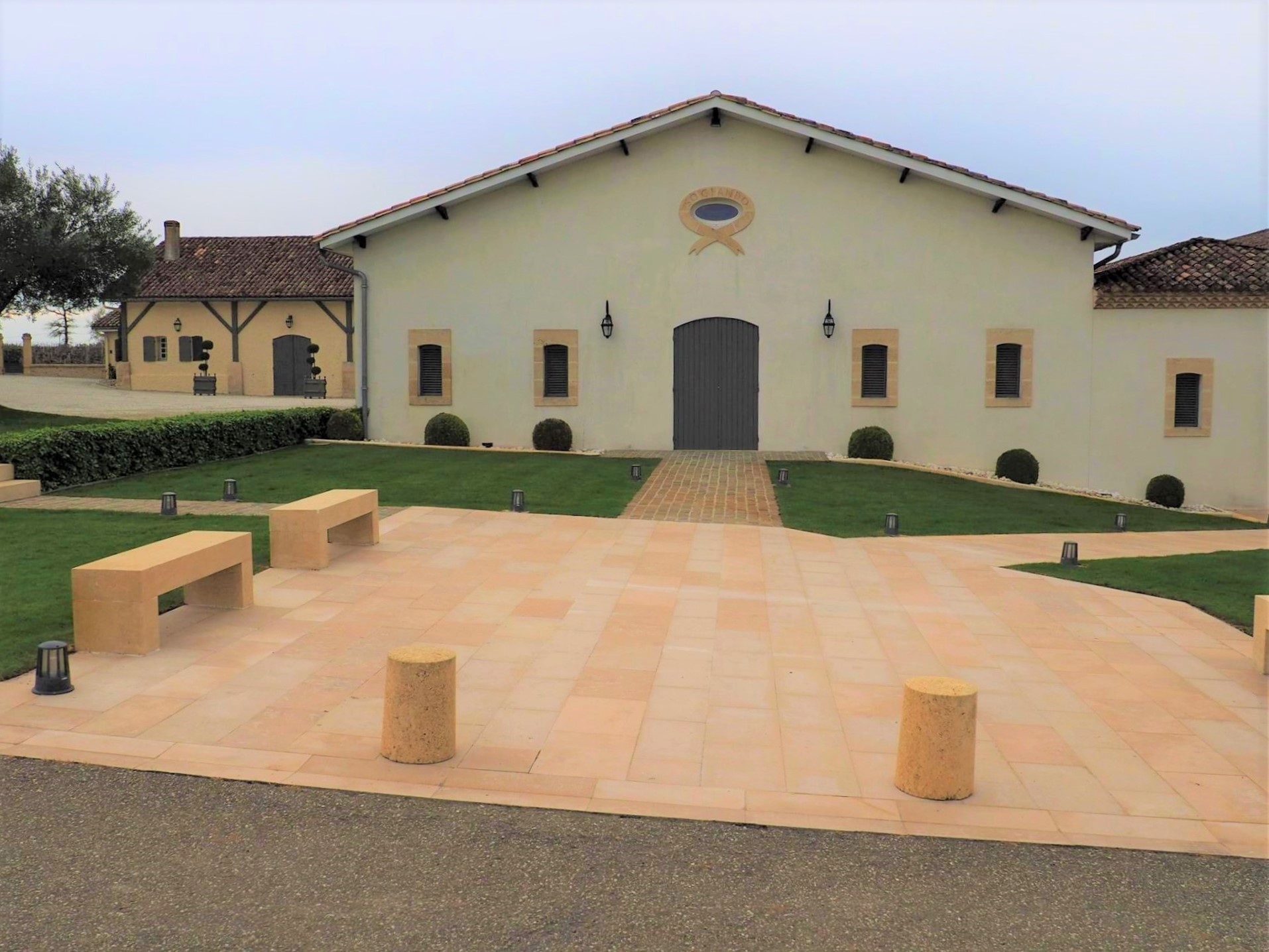 Left - wines to taste. Right - the property.
Goulée managed and vinified by Cos d'Estournel is the best vintage I've ever tasted from this property.
D'Arcins, de Lamarque, Mallescasse and Rollan de By made quite concentrated wines with chocolate flavours, fine palate, silky texture and meaty aftertaste. Fine for the vintage. La Cardonne and Potensac turned up with attractive, fruity and tasty wine.
Margaux:
Brane-Cantenac94-95 Cantenac Brown 94 Dauzac 94 Desmirail 94 du Tertre 93 Eyrins 92 Ferrière 94 Giscours95 d'Issan 93 Kirwan 95 Labégorce93 La Tour de Mons 89 Lascombes 93-94 Malescot Saint-Exupéry 93 Margaux 98-100 Marojalia 91 Marquis d'Alesme 94 Marquis de Terme 94 Marsac Seguineau 88 Monbrison 94 Palmer 97+ Pavillon Rouge de Margaux 94 Prieuré-Lichine 93 Rauzan Gassies 94 Rauzan-Ségla 94 Siran 93
Saint-Julien:
Beychevelle 95 Branaire-Ducru 94 Clos de Marquis 94-95 Ducru Beaucaillou 98-99 du Glana 90 Gloria 93 Gruaud Larose 95 La Croix de Beaucaillou 93 Lagrange 93 Lalande Borie 93 Langoa Barton 94 Le Petit de Leoville 92-93 Léoville Barton 95-96 Leoville Las Cases 99 Leoville Poyferre 95-96 Saint-Pierre 93 Talbot 93
I could absolutely not complain about wines tasted in this commune. Very true and stylish wines, terroir driven!
Leoville Las Cases appeared very concentrated and intense, full of black cherry fruit, sleek, silky fruit and tannin, very sophisticated and utterly complex. Perfect balance. This wine wasn't surprisingly a kind of bulldozer, merely an athletic man moving like balerina. Second wine of LLC, Le Petit de Leoville, impressed a lot with fine fruit intensity, fine complexity and fine acidity. Long meaty finish.
Clos de Marquis again and again showed how brilliant wine it is! Dense, tight, concentrated black cherries, great complexity and long finish.
Ducru Beaucaillou was a giant of a wine, incredibly well-constructed and incredibly complex with riveting structure, depth and length. Lots and lots of fruit and tannin in perfect balance. Best wine from this property in recent times I've ever tasted! 85% Cabernet Sauvignon and 15% Merlot.
Second wine, La Croix de Beaucaillou, was potent, concentrated and meaty with very distictive black cherry flavour, splendid complexity and length. Splendid effort for the vintage. Bruno Borie's another property, Lalande Borie, displayed the same fine things as LCdB and was equally splendid.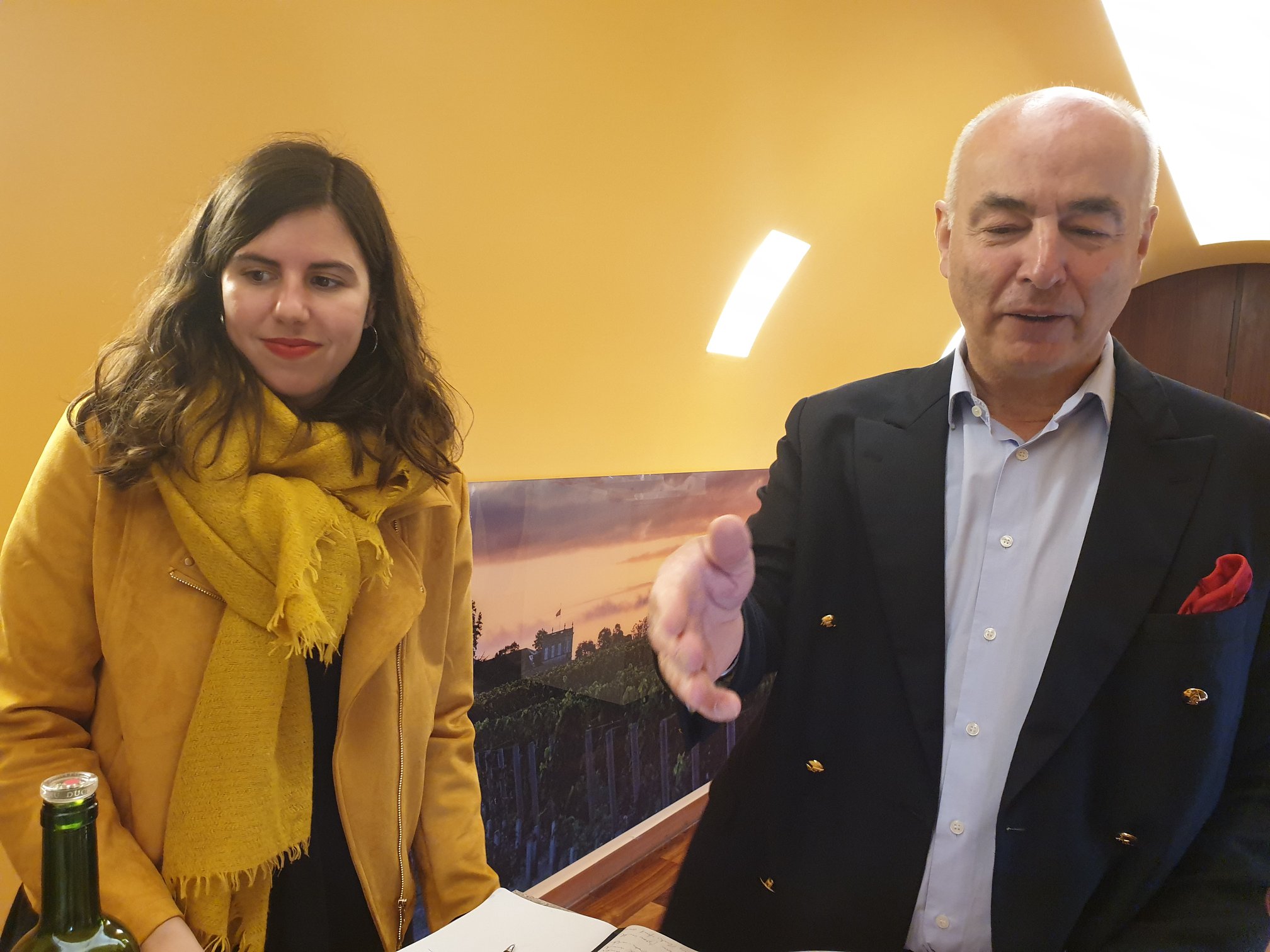 Our guide Juliette Despréaux and Bruno Borie the owner of Ducru Beaucaillou.
Leoville Barton was classic and intense wine with strong structure, fat fruit and tannin. Showcase of Cabernet Sauvignon with almost 75% of it in the wine. Beautiful effort. Leoville Poyferre was equally excellent wine with a bit softer texture and more elegance.
Beychevelle acted potent and with strong backbone, pure fine depth and length. Very stylish and elegant wine. Gruaud Larose was powerful, massive yet polished and had strong backbone, great complexity and length. Impressive effort.
Branaire Ducru did at last show some more personality than in recent vintages. Elegant with finesse, sleek with fine balance and smooth finish. Langoa Barton was on contrary big scaled wine with lot of fruit backed up by fat tannin, and had long meaty finish. Excellent effort.
Lagrange, Saint Pierre and Talbot were very elegant and sleek and showed finesse, fine balance, silkiness and velvety texture, splendid complexity and smooth finish. Gloria was more modern type of wine, juicy and sappy, with fat fruit and tannin.
Pauillac:
d'Armailhac 92-93 Batailley 93 Carruades de Lafite 93 Clerc Milon 93 Croizet Bages 93 Duhart-Milon 93-94 Fonbadet 91-92 Grand-Puy Ducasse 94 Haut-Bages Libéral 94 Lafite Rothschild 100 Latour 98-100 Le Petit Mouton de Mouton-Rothschild 92 Les Forts de Latour 94 Les Griffons de Pichon Baron 92 Les Tourelles de Longueville 92 Lynch-Bages 93-94 Lynch-Moussas 93 Mouton-Rothschild 98-100 Pauillac de Latour 92 Pedesclaux 92 Pibran 92 Pichon Baron 96-97 Pichon Comtesse 98-99 Pontet-Canet 96
This commune has together with Pomerol, Saint-Emilion and Saint Estephe, offered much more than a bunch of extremely exiciting wines. Several of them are for sure going to be legends!
Lafite
Latour
Mouton Rothschild
Pichon Comtesse
Pichon Baron
Pontet Canet
Saint-Estephe:
Calon-Ségur 98-99 Capbern 93-94 Cos d'Estournel 99-100 Cos Labory 93 de Pez 92-93 Haut Marbuzet 93-94 La Dame de Montrose 93 Lafon-Rochet94 Le Marquis de Calon 93+ Les Ormes de Pez 92 Meyney 94+ Montrose 98-99 Pagodes de Cos 93+ Phélan Ségur 93-94 Serilhan 90-91 Tronquoy-Lalande 92
This commune succeded extremely well in 2018, because of its complex soil containing a great deal of clay beneath gravel. Clay kept the water from wet winter/early spring and there was enough of it for dry 3 summer months. You can easily say, that many properties here have made best wines of their lives!
Cos d'Estournel really did hit "bull's eye" in 2018! A true monster, big, iron strong backbone, very concentrated and could be sliced in tranches, so fat are fruit and tannin. Even though, there is elegance, sophisticated touch, fabulous complexity, lot of style and long, long finish. Wow! 14.59% alcohol (well-hidden by fruit), only 50% new barrels, 74% Cabernet Sauvignon, 23% Merlot, 2% Cabernet Franc and 1% Petit Verdot.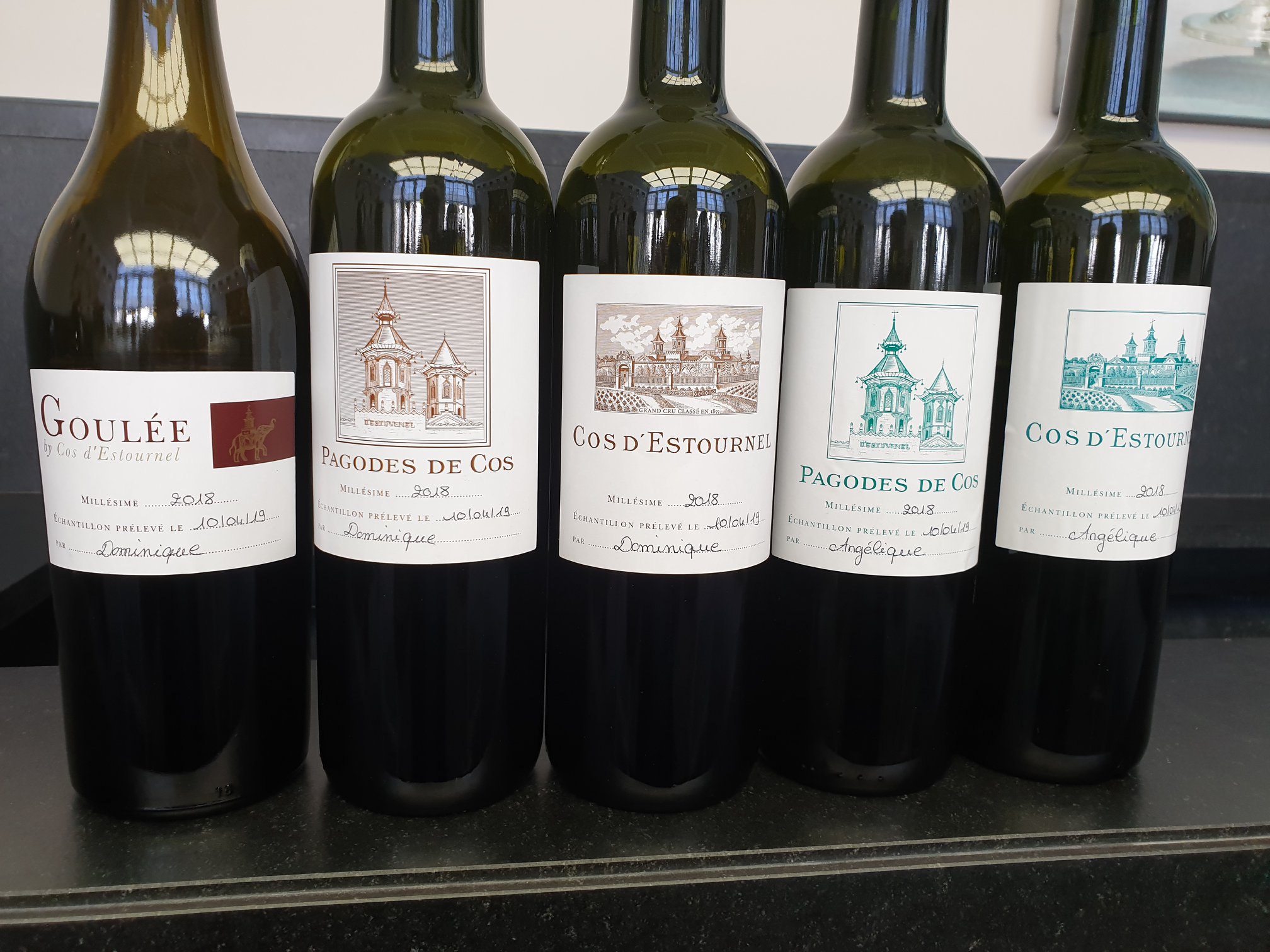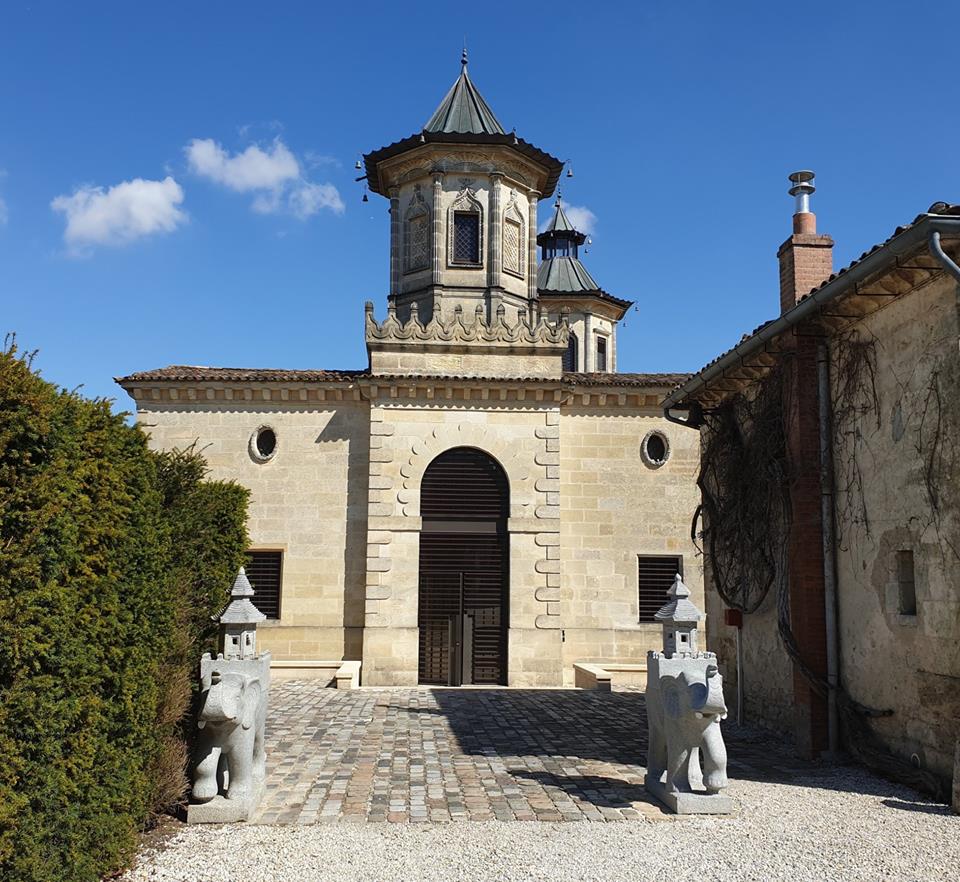 Pagodes de Cos 2018 showed freshnes and purity, was sleek and had great acidity. Superb wine.
Calon Segur and Montrose seemed like to have just turned the afterburners on in 2018!
Calon Segur seems to have made the best vintage in the last 50 years. Beautifully scented nose, distinctive, precise, focused, stylish, elegant and powerful at the same time with excellent complexity, structure and length. Once again wow! 14.9% alcohol, but it's well-covered by fruit and acidity. 65% Cabernet Sauvignon, 17% Merlot, 15% Cabernet Franc and 3% Petit Verdot.
Capbern I haven't tasted before so distinctive with fat and silky fruit/tannin, powerful and very complex. Velvety texture and great, great complexity, meaty and fruity finish. Very impressive indeed in 2018.
Second wine, Le Marquis de Calon 2018, had beautiful sweet fruit and tannin with great complexity. Focused and precise. Remarkable effort.
We were also treated with tasting 2016 vintage of all three wines. They were very much reminiscent of 2018, more elegant and less concentrated. Stunning wines - Capbern 92-93p, Le Marquis de Calon 92-93p and Calon Segur 96-97p.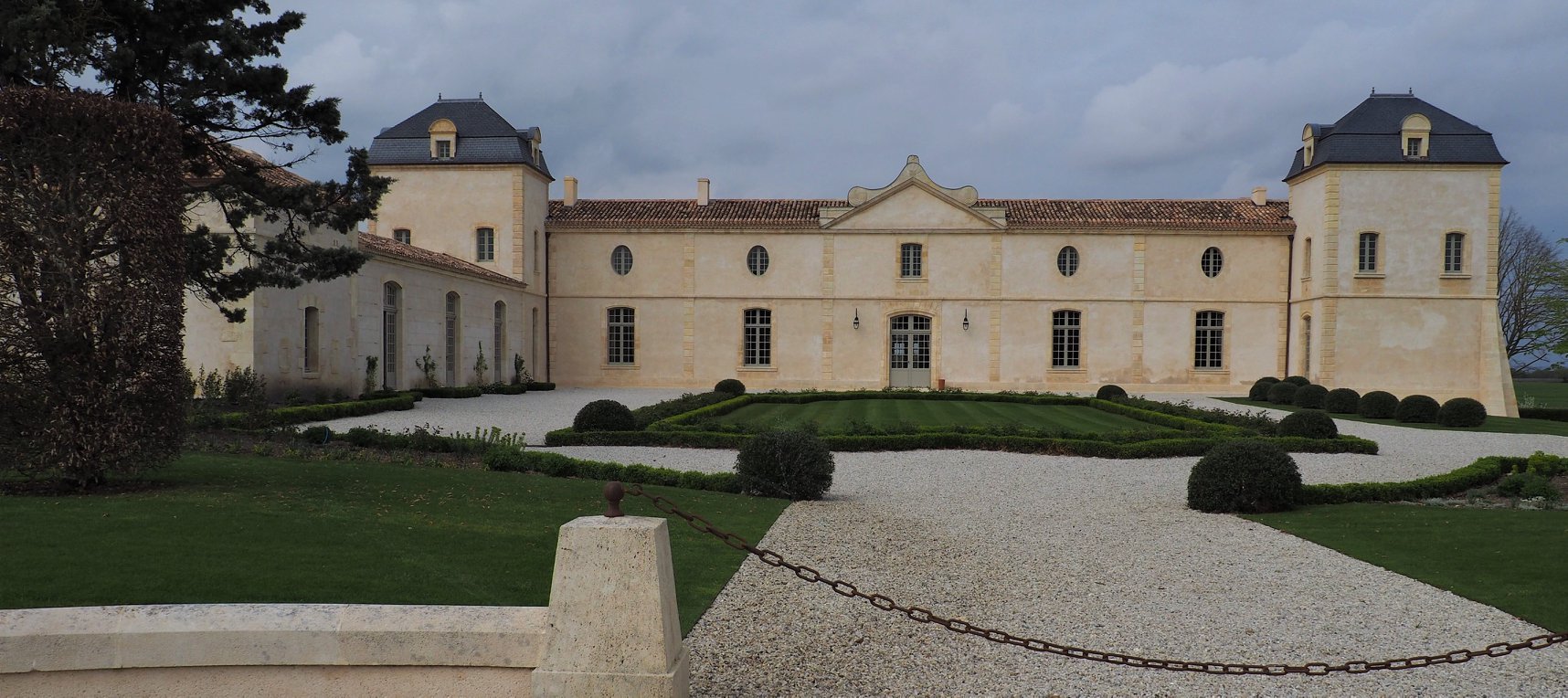 Imposing Chateau Calon Segur in April 2019
Montrose was like always in recent vintages "an iron fist in velvet glove"! Bulldozering but moving elegantly, creamy and with awesome complexity and length. Fatness and fabulous complexity. Wow! Only 53% of the total production went into Grand Vin. 14.8% alcohol but you can't feel it due to balance of the wine. 72% Cabernet Sauvignon, 20% Merlot, 6% Cabernet Franc and 2% Petit Verdot.
Meyney has made imho the best wine ever for the property! 2018 is really intense on the nose, potent on the palate, juicy and creamy, has strong backbone, great complexity, depth and length. Fat fruit and tannin. Long, long finish. A steal for the money! 42% Cabernet Sauvignon, 40% Merlot and 8% Petit Verdot.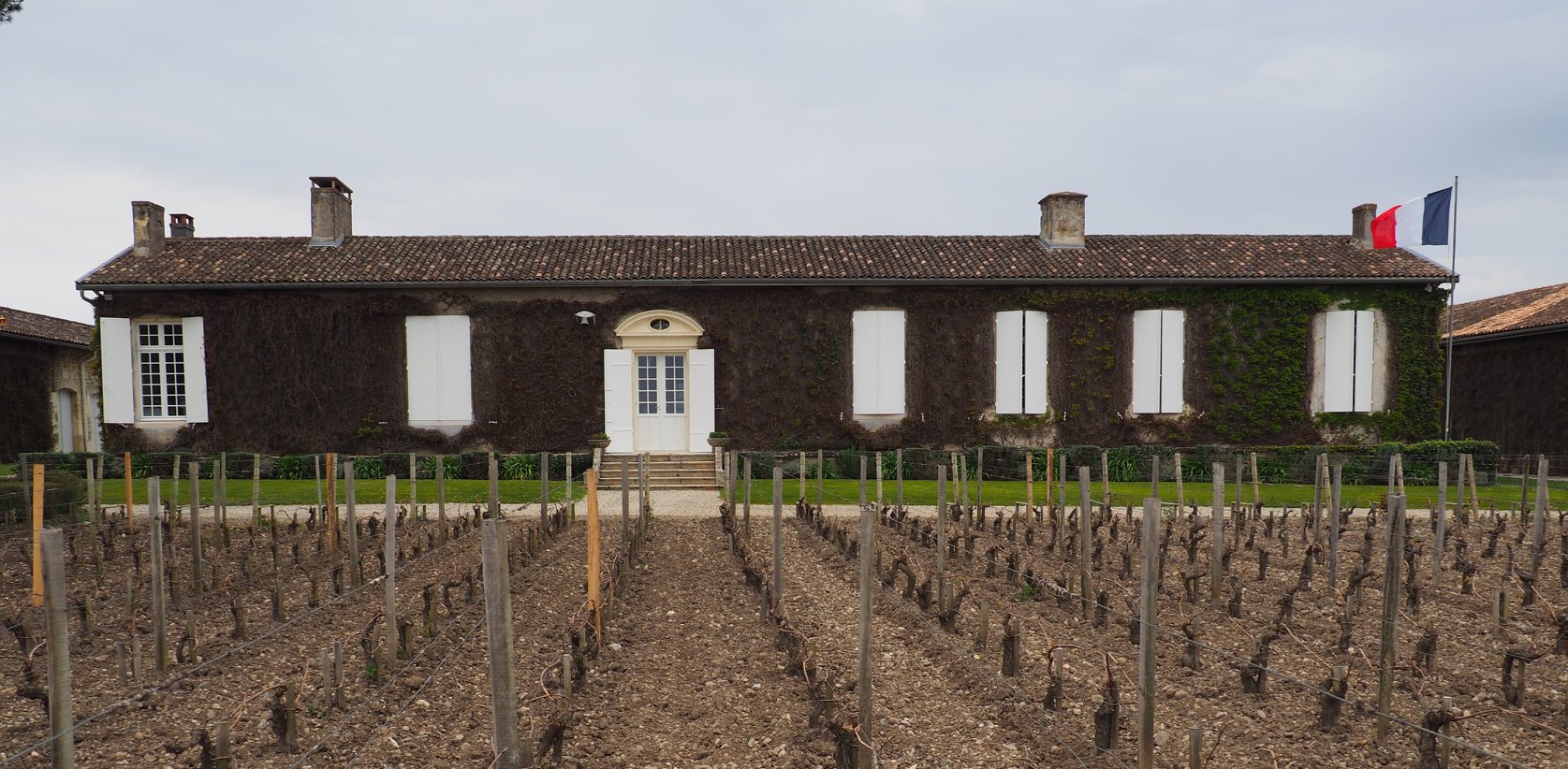 Chateau Meyney in April 2019
Lafon Rochet did make splendid wine in 2018 with strong and powerful approach, fine depth and structure, fine complexity and meaty aftertaste.
Haut Marbuzet offered in 2018 a very seductive, sexy, fruity, well-defined wine with lot of elegance and finesse. Very impressive indeed and for me the best HM in last 25 years. 13.5% alcohol, 50% Merlot, 40% Cabernet Sauvignon, 5% Petit Verdot and 5% Cabernet Franc.
Phelan Segur was very powerful with velvety texture, silky fruit and tannin, splendid complexity, splendid structure and long finish. Great effort for the vintage. We also tasted 2014 vintage which was just splendid with perfectly mature Cabernet Sauvignon (late harvest), and splendid acidity. Very sleek wine. 92p. 2011 offered less concentration and intensity than 2014 and was a bit closed. Needs several years to come round. 90p.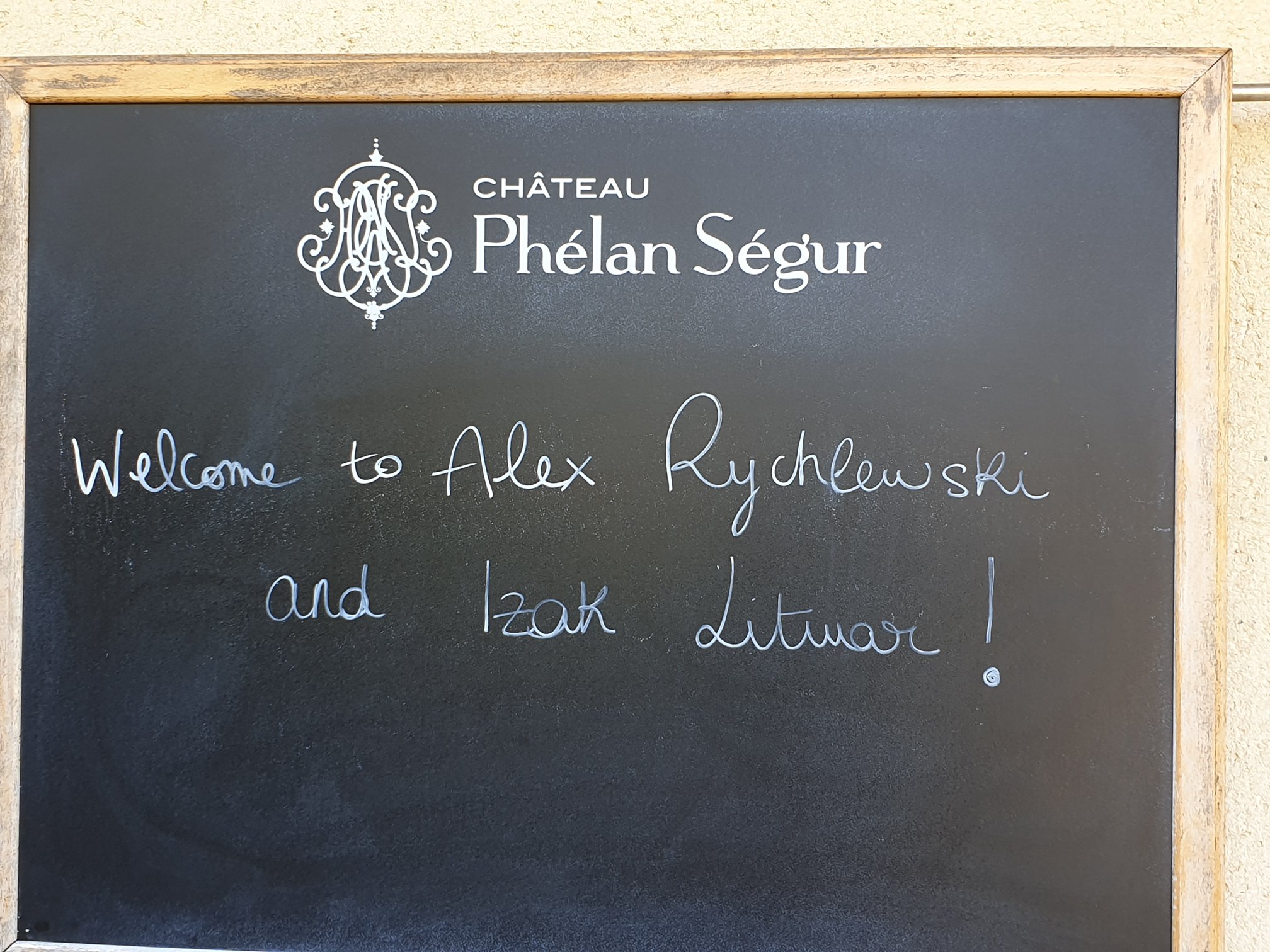 That's the great welcome! April 2019
Cos Labory, La Dame de Montrose, de Pez and Les Ormes de Pez were all aromatic with sweet fruit, strong backbone and fine comlexity. Vey fine efforts for the vintage.
Canon-Fronsac/Fronsac:
Dalem Fronsac 93 de La RiviereFronsac 93 Fontenil Fronsac 93 Gaby Canon-Fronsac 88 Haut Carles Fronsac 87 La Dauphine Fronsac 93 La Vieille Cure Fronsac 93-94 Les Troix Croix Fronsac 93 Moulin Haut Laroque Fronsac 93 Villars Fronsac 92
Very successful district in 2018 and a lot better than in 2017. Several really splendid wines with La Vieille Cure as a top wine. Concentrated cherries, potent, strong, well balanced, fruit and tannin in perfect symphony, impressive personality. Then Dalem, de La Riviere, Fontenil, La Dauphine, Les Troix Croix and Moulin Haut Laroque, all potent wines with strong backbone, minerality, lot of fat fruit and tannin, complexity and meaty aftertaste. Villars was a little bit down on complexity compared with the forementioned wines, but had very aromatic and scented nose, and seductive approach.
Castillon Cotes de Bordeaux, Cotes de Bourg, Montagne-Saint-Emilion and St.Georges-Saint-Emilion:
Ampelia 92 Cap St. George St. Georges-Saint-Emilion 92-93 Clos de Bouard Montagne-Saint-Emilion 92 Clos Lunelles 91 Cote Montpezat 91 L'Aurage 92 Laussac 92 Laussac Cuvee Sasha 92 Montlandrie 91-92 Roc de Cambes 94 Cotes de Bourg Veyry 92

All districts/communes mentioned here did very well in 2018 and didn't make overblown or overextracted wines. Wise and thoughtful vinification. Best wine of the tasted ones was Roc de Cambes. Strong and powerful, packed with big quantities of black cherries and fat tannin, great complexity and length. Probably the best RdC ever! Then the dense Cap St.George, strong structure, complex and with meaty finish, followed by deliciously fruity, aromatic and concentrated Ampelia, seductive and candy like Clos de Bouard, L'Aurage with delicate flowery scent, ripe cherries and some dark chocolate, very cherry and luscious Lussac/Lussac Cuvee Sasha and potent Veyry with lot of fat fruit and tannin.
Lalande-de-Pomerol:

de Bel Air 88 de Chambrun 87 Domaine des Sabines 92 Grand Ormeau 92 Jean de Gue 91 La Chenade 92+ La Fleur de Bouard 92-93 La Sergue 88 L'Ambroisie 91-92 Les Cruzelles 92+ Moncets 91 Perron La Fleur 87 Saint Jean de Lavaud 91-92 Siaurac 88 Tournefeuille 88
2018 vintage in this district seems to be somewhat uneven. Star wines are La Fleur de Bouard and Les Cruzelles, both very aromatic, silky, sleek and complex, followed by very aromatic, delicate and very fruity Domaine des Sabines. Grand Ormeau and La Chenade. L'Ambroisie, Jean de Gue, Moncets and Saint Jean de Lavaud were all well made wiines, aromatic, sleek, full-bodied, long on the palate with meaty finish.
Pomerol:
Beauregard 91 Bellegrave 93 Belle Brise 93 Blason de L'Evangile 91 Bonalgue 92 Bourgneuf 94+ Cantelauze 95-96 Certan de May 96 Clinet 96-97 Clos de la Vieille Eglise 93 Clos du Clocher 88 Clos Vieux Taillefer 92 Clos des Rouzes 90 Feytit Clinet 93 Gazin 92 Hosanna 94-95 La Clemence 92-93 La Commanderie 92-93 La Conseillante 98 La Croix Saint-Georges 95+ La Fleur de Gay 92 La Fleur Petrus 95-96 La Grave 91-92 La Patache 91+ La Petite Eglise 93 La Pointe 93 Lafleur 98-100 Lafleur Gazin 91 Lagrange 90 L'Evangile 98 Latour-á-Pomerol 93 Le Bon Pasteur 94+ Le Clos du Beau-Père 92 Lecuyer 92-93 Le Gay 95+ Le Moulin 91 Le Pin 98-99 L'Eglise-Clinet 98-99 Les Pensees de Lafleur 93-94 Mazeyres 92 Montvieil 90 Nenin 93+ Petit-Village 96 Petrus 100 Plince 92 Rouget 95 Sácre Coeur 94-95 Taillefer 91-92 Tour Maillet 92 Trotanoy 99 Vieux Château Certan 98-99 Vieux Maillet 92 Vray Croix de Gay 91
Saint-Emilion:
Over 100 barrel samples tasted!
Á Capella 94+ Amélisse/Saintayme 91-92 Angelique de Monbousquet 90 Angelus 97 Carillon d'Angelus 92 Angelus 3 91 Aromes de Pavie 90 Ausone 99 Balestard La Tonnelle 91 Beau Sejour Becot 94 Belair-Monange 97-98 Bellefont Belcier 94-95 Bellevue 93 Bellevue Mondotte 96 Berliquet 91 Boutisse 92 Canon 98 Canon La Gaffelière 92 Cap de Faugeres 91 Cap de Mourlin 89 Cheval Blanc 98-99 Clarendelle 89 Clavis Orea 93+ Clos Badon 92 Clos de Sarpe 92 Clos Dubreil 93 Clos Fourtet 96-97 Clos La Madeleine 88 Clos St. Martin 92 Cos St. Vincent 89 Corbin 95+ Corbin Michotte 95 Cote de Baleau 92 Croix Cardinale 88 Dassault 92 Daugay 92 Destieux 89 Faugeres 91 Figeac 98 Fleur Cardinale 92 Fonbel 91 Fonroque 92 Fourney 90 Franc-Mayne 92 Gracia 93 Grand Mayne 92 Haut Simard 90 La Chapelle d'Ausone 92 La Clotte 91 La Confession 95+ La Couspade 94-95 La Croizille 92 La Dominique 92 La Serre 91 La Tour Figeac 94 La Voute 92 Laforge 92 Larcis Ducasse 96 Larmande 94 Le Carre93 Le Dôme 96 Le Dragon de Quintus89 Le Tertre Roteboeuf 99-100 L'If 95 Les Asteries 94 Lusseau 91 Lynsolence 92-93 Magrez Fombrauge 93 Mangot 91 Monbousquet 91 -92 Montlabert 92 Moulin du Cadet 90 Moulin Saint-Georges 91 Osage 91-92 Pavie 98 Pavie Decesse 96 Pavie-Macquin 96-97 Peby Faugeres 92+ Petit Cheval 92 Pindefleurs 90 Pontet Labrie 93 Pressac 92 Puy Blanquet 90 Quinault L'Enclos 91 Quintus 93 Ripeau 93-94 Sansonnet 91 Simard 89 Soutard 95 Soutard-Cadet 90-91 Teyssier 90 Trimoulet 88 Tour Baladoz 92 Tour St.Christophe 91-92 Valandraud 98 Vieux Chateau Mazerat 95 Vieux Guinot 91 Villemaurine 92 Virginie de Valandraud 92 Yon Figeac 91-92