© 2003-2015 I.Litwar
WELCOME TO MY BORDEAUX HOMEPAGE!
Bordeaux 2013 Bordeaux 2012 Bordeaux 2011 Bordeaux 2010 Bordeaux 2009 Bordeaux 2008 Bordeaux 2007
Bordeaux 2006 Bordeaux 2005 Bordeaux 2004 Bordeaux 2003 Bordeaux 2002 Bordeaux 2001 Bordeaux 2000
Sauternes & Barsac Horizontal & vertical tastings Additional tasting notes
Guide to visiting Bordeaux Links Contact Archive Music Site map
JUST A FEW WORDS ABOUT ME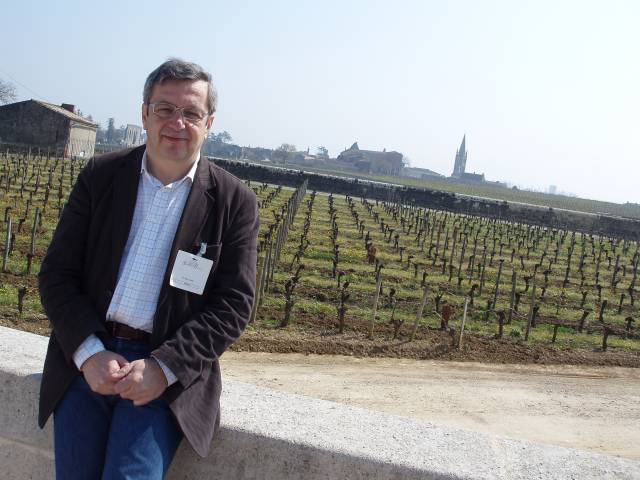 I had been working as laboratory technician controlling medicines for around 40 years and since 1984, I've tasted wines and written about wine in my free time. Since 2007 I've only contributed with articles to my website. I retired at the end of 2012 after 40 years of work, which means now more free time and longer stays in Bordeaux, and which also means much more info at this website than before.
I've visited Bordeaux many times - first trip took place in 1984, followed by trips in 1985 (during harvest), 1987, 1988, 1990 and 1993. Since 1995 I've visited Bordeaux every year in May/June, but twice in 2000, 2001, 2003, 2004, 2006, 2007, 2008, 2009, 2010, 2011, 2012, 2013 and 2014 (visiting in March/April during primeur and in September/October during harvest).
Since 2002 and starting with vintage 2001, I've participated every single year in Union des Grands Crus de Bordeaux primeur tastings of new vintage for invited journalists in March/April.
My tasting experience of Bordeaux wines is also based on many, many vertical/horisontal tastings with often 20+ vintages of a given château - f.i. 22 vintages of CANON back to 1948 (1988), 18 vintages of CHEVAL BLANC back to 1928 (1988), 25 wines from the highly-heralded 1959 vintage (1989), BEYCHEVELLE, CERTAN DE MAY, LATOUR, MONTROSE, PALMER (18 vintages back to 1952), LE PIN (12 vintages), PONTET CANET and VIEUX CHATEAU CERTAN verticals (tastings taking place between 1990 and 1999), 65 vintages of D`YQUEM back to 1847 (2005), 30 vintages of LATOUR back to 1904 (2006), 19 vintages of HAUT BRION/39 vintages of LA MISSION HAUT BRION back to 1920 (2006), 10+ vintages of PALMER (2007), 10+ vintages of BEYCHEVELLE (2008), 14 vintages of LAFLEUR (2012), all tastings taking place in Copenhagen. Since 1987, I've been participating in many vertical tastings while coming to Bordeaux twice a year.
I've tasted many old wines from Bordeaux - among the highlights - the oldest red Bordeaux I've ever tasted is PALMER 1865, the oldest sweet white Bordeaux I've tasted is D'YQUEM 1847 and the oldest dry white Bordeaux I've tasted is DOMAINE DE CHEVALIER 1941. I'm member of Jurade de Saint-Émilion, Hospitaliers de Pomerol and Commanderie de Bontemps á Medoc, Graves et Sauternes.
My website is independent, non-profit and it costs nothing to check it out. No advertisements and no sponsor. I want to keep my website simple without fancy layout and to be packed with lots of information. Main purpose of this website is to share my impressions and TNs with fellow wine-lovers. Enjoy!
CHÂTEAU PROFILES
BELLE BRISE BEYCHEVELLE BOURGNEUF CLIMENS CLOS HAUT PEYRAGUEY DOMAINE DE CHEVALIER
LA CONSEILLANTE DE FARGUES GILETTE AND LES JUSTICES HAUT BRION AND LA MISSION HAUT BRION
LAFAURIE PEYRAGUEY LAFLEUR LATOUR MARGAUX LEOVILLE POYFERRE MONTROSE MOUTON ROTHSCHILD
NAIRAC PALMER PETRUS PICHON COMTESSE PONTET CANET RAYMOND LAFON SEGUIN TERTRE ROTEBOEUF
TROPLONG MONDOT VALANDRAUD D'YQUEM
Pretty ladies welcome you at Domaine de Chevalier - Ban des Vendanges in September 2003

Pretty ladies welcome you at Domaine de Chevalier - Ban des Vendanges in September 2013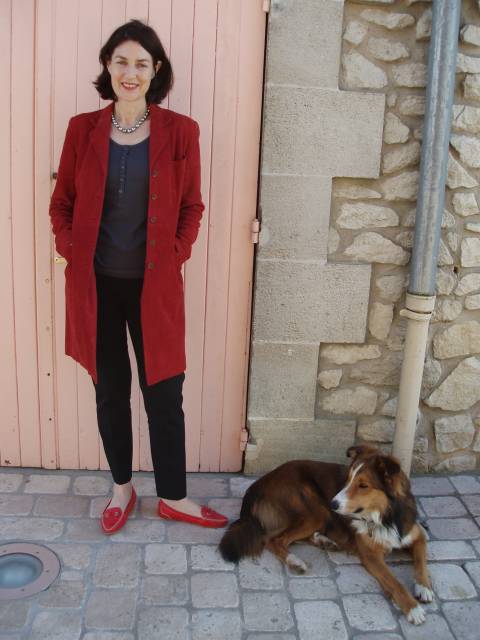 Christine Valette, charming proprietor of Troplong Mondot, pictured in April 2006. Great distinguished lady who sadly deceased in March 2014. RIP.
Melanie Tesseron has great fun while presenting wines at Pontet Canet in October 2007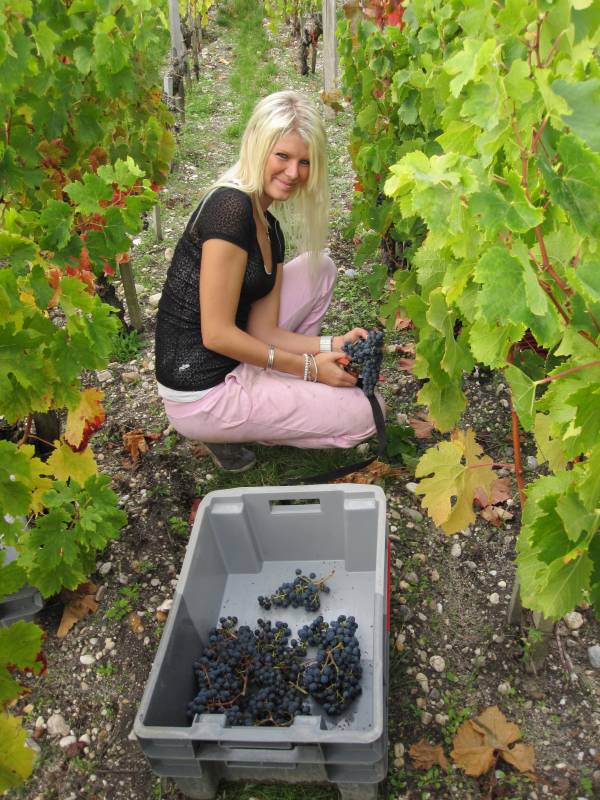 5th October 2010 at Palmer - enchanting young girl from Danish school (10th class) in Holstebro picks grapes. 2010 Palmer will be gorgeous ;-D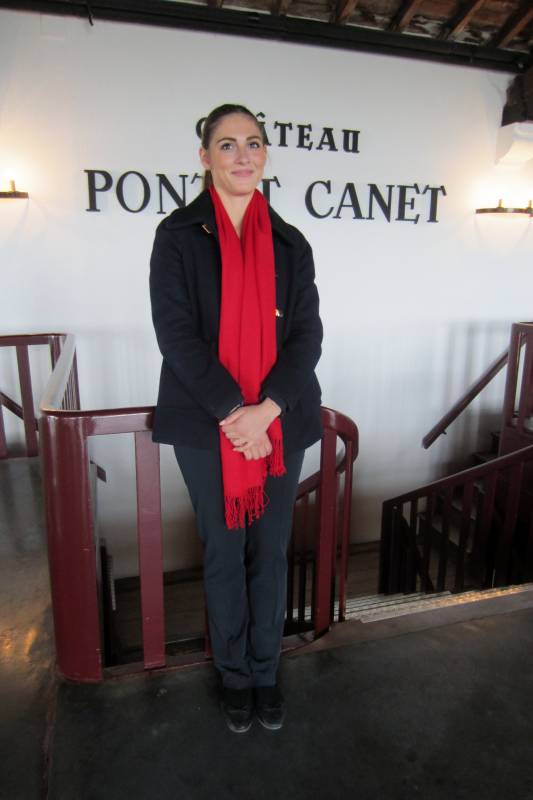 Pretty woman = hostesse at Pontet Canet, April 2012
NEWS!
30.11.2014 - report from tasting of 15 high-ranked 2011 Bordeaux - check in Horisontal and Vertical tastings.
26.10.2014 - My impressions from visiting Bordeaux between 21st September and 26th September, and catching a little of harvest are published.
06.06.2014 - I've just finished putting impressions from primeur tastings + TNs on other vintages, collected during my stay in Bordeaux between 26th March and 10th April on my website. All profiles have been updated with 2013 vintage TNs and with other vintages tasted too.
24.05.2014 - TNs from Palmer vertical which took place in Copenhagen on the 21st May 2014 added in chapter "Horisontal and vertical tastings". Profiles of Bourgneuf, Lafleur, Palmer and Tertre Roteboeuf have been updated with 2013 TNs and also with TNs from other vintages tasted in March/April 2014.
26.01.2014 - TNs from Bordeaux tasting in the beginning of September 2013 (Beyerman negociant bringing more than 20 properties to Copenhagen) - check out them here - http://www.greatbordeauxwines.com/Horisontal%20and%20vertical%20tastings.html
01.01.2014 - profiles of Domaine de Chevalier, Haut Brion & La Mission Haut Brion, Montrose and Valandraud updated with recently tasted vintages.
08.12.2013 - Tertre Roteboeuf chapter updated with TNs of wines tasted during Francois Mitjavile visit in Copenhagen.
02.12.2013 - report of Francois Mitjavile's visit in Copenhagen last week and tasting wines from Tertre Roteboeuf and Roc de Cambes. Please look up in chapter "Horisontal & vertical tastings".
26.10.2013 - chateau profiles of Bourgneuf, Domaine de Chevalier, Haut Brion & La Mission, Lafleur, Nairac, Palmer, Raymond Lafon, Seguin, Tertre Roteboeuf and Valandraud had been updated with TNs of vintages 2012-2011-2010-2009-2005.
21.10.2013 - report on Voyage de Presse 2013 Graves/Pessac-Leognan + impressions from other visits between 12th and 26th September is ready for reading.
05.07.2013 - profile of Leoville Poyferre and Pontet Canet added today.
30.06.2013 - profile of Belle Brise added today.
23.06.2013 - all chateau profiles had been updated with tasting notes concerning 2012 vintage and other vintage(s) tasted during Bordeaux visits in April 2013 and tasting of 2010 and 1990 vintage in May 2013.
07.06.2013 - impressions from tasting of 16 2010 and 3 1990 Bordeaux have been placed in chapter "Horisontal and vertical tastings".
05.06.2013 - all impressions from all visits during three weeks stay in Bordeaux in April 2013 have been added to chapter "Bordeaux 2012".
02.05.2013 - my report on 2012 vintage in Bordeaux and ratings published today on this website.
29.03.2013 - leaving next Wednesday for primeur tasting in Bordeaux. Rumours say Right Bank is the winner in 2012 vintage - we'll see.
05.01.2013 - chapter " 2011 Harvest in Bordeaux (diary day by day) moved to section "Archive".
03.11.2012 - tasting notes from Chateau Pontet Canet vertical in Copenhagen at the end of October. Please look up in Horisontal & vertical tastings. Profile of La Conseillante added.
28.10.2012 - "2012 Harvest in Bordeaux" chapter is now finished and ready for look-up. Tertre Roteboeuf and Valandraud profiles updated with TNs from 1st October 2012.
21.10.2012 - profiles of La Mission Haut Brion/Haut Brion and Seguin updated with TNs of wines tasted in September 2012.
28.09.2012 - Bourgneuf profile updated with vintages 2010, 2009, 2008, 2001, 2000 and 1975 tasted today.
17.09.2012 - tasting notes from Chateau Lafleur extravaganza which took place on Friday the 14th September. Please look up in Horisontal & vertical tastings.
08.09.2012 - Tns from vertical tasting of Leoville Poyferre, St.Julien and tasting of 2011 + one older vintage from 27 chateaux organized by Beyerman negociant company. Please look up in Horisontal & vertical tastings.
15.07.2012 - chapter "Additional tasting notes" updated with some newly tasted wines from 2000 vintage and profile of Mouton Rothschild updated with TNs of 2005 vintage.
01.07.2012 - profile of Mouton Rothschild added today.
07.06.2012 - profile of Clos Haut Peyraguey added today.
03-05.06.2012 - all tasting notes in chapter "Bordeaux 2011" are now added and this chapter is 100% completed. All profiles have been updated with tasting notes of 2011 and older vintages if tasted.
02.05.2012 - short impressions from several visits (2011 and other vintages) have been continuosly added in chapter "Bordeaux 2011". This is first part. In second part of this chapter, I put the usual description of 2011 vintage, plus tasting notes on wines district by district.
13.04.2012 - ratings on app. 340 wines published in chapter "Bordeaux 2011".
20.03.2012 - Tns from vertical tasting of La Cabanne from Pomerol. Look up in Horisontal & vertical tastings.
13.02.2012 - Tns from tasting of four properties owned by Domaines Fabre including Lamothe Cissac in both normal and Vieilles Vignes version. Look up in Horisontal & vertical tastings.
25.12.2011 - profile of Chateau Bourgneuf (Pomerol) and more tasting notes added to section "Additional tasting notes", like f.i. Vieux Chateau Certan 1953 and Corbin Michotte 1966.
06.11.2011 - Chapter "Bordeaux 2000" updated with TNs of 13 wines tasted on 1st November + profiles of Beychevelle, Pichon Comtesse and Troplong Mondot updated/added tasting note of 2000 vintage.
16.10.2011 - profiles of Domaine de Chevalier, Haut Brion/La Mission, Margaux, Nairac, Raymond Lafon, Seguin and Valandraud updated with vintages tasted in September 2011, mostly 2009 vintage.
14.10.2011 - Chapter "2011 harvest in Bordeaux" is ready.
15.08.2011 - profile of Seguin addad.
19.07.2011 - profile of Montrose added.
02.07.2011 - profile of Lafaurie Peyraguey.
01.07.2011 - chapter " VOYAGE DE PRESSE IN GRAVES/PESSAC-LÉOGNAN + HARVEST 2010 " moved to "Archive".
04.06.2011 - profiles of Latour, Margaux, Nairac and Palmer updated with TNs on 2010, 2009 plus other vintages tasted.
03.06.2011 - profiles of Beychevelle, Climens, Domaine de Chevalier, de Fargues, Haut Brion/La Mission Haut Brion, Lafleur, Petrus, Pichon Comtesse, Raymond Lafon, Tertre Roteboeuf, Troplong Mondot and Yquem updated with TNs on 2010, 2009 plus other vintages tasted.
03.06.2011 - new chapter added - BORDEAUX 2010. Includes my valuation of the vintage district by district and text behind ratings of wines.
03.05.2011 - impressions from tasting 2010 vintage primeur and ratings on 290 wines + tasting notes on other vintages are available here - NEW! PRIMEUR 2010 AND EXTRAS
04.03.2011 - Denis Dubordieu, one of most prominent wine personalities in Bordeaux, says that 2010 vintage is going to be a fantastic thrill. I second that!
25.02.2011 - a little more than one month until primeur tastings start in Bordeaux. Witnessing birth of beautiful and healthy child in form of vintage 2010 under harvest time in September/October 2010, I'm really excited about the prospects of this vintage. I've already arranged a lot of visits - big guys and small guys in order to get the balance of things.
02.01.2011 - profiles of Gilette, Latour and Margaux updated with addition of vintage(s) tasted during 1990-1999. Planned profiles during sommer 2011 - Valandraud and Montrose.
15.12.2010 - malolactic fermentation at several properties have finished and winemakers are really thrilled with what they have achieved with the help of nature. They are not only talking about 2010 vintage being superior to 2009, but also say it's maybe even better than 2005. Especially, they are extremely impressed with Cabernet Franc, which seemed to obtain an unbelievable grade of maturity, richness and concentration in 2010.
14.11.2010 - the big question is how winemakers will cope with high tannins. They're ripe and fat. As grapes were small, there was concentrated juice as well, so everything lies in careful maceration trying to balance fruit and tannin. This is for reds. In Sauternes & Barsac they are in dream-land. To quote Jean-Pierre Meslier from Raymond Lafon -"It is too early to compare 2010 to another specific vintage. But it will be among the very best!" Primeurs next year in April will reveal if 2010 is another vintage of century.
03.11. 2010 - my impressions from 10 days stay in Bordeaux between 27th September and 6th October have been put in new chapter - "September-October 2010 - 2010 harvest in Bordeaux".
21-31.10.2010 - tasting notes from visits at Jean-Luc Thunevin (2009 and 2008), Le Gay/La Violette (2009), Gilette (2009 and 2008) and Labegorce/Marquis d'Alesme added to respective chapters.
20.10.2010 - to sum it up as harvest 2010 goes into its final phase and some places it's already finished (f.i Domaine de Chevalier) - Bordeaux winemakers speak unanimously about greater maturity of fruit and tannin (both inside grapes and grape skins) in 2010 than in 2009 a bit lower alcohol and higher acidity in 2010 than 2009, which means more freshness. I wasn't that fond of tannin in 2009 and several people overextracted in 2009. I doubt it very much that they'll try it again in 2010, as grapes are small and very concentrated, and don't need long extraction. This is for reds. I tasted both Merlot and CS with very thick skins several places with stunning concentration and sweetness. Whites have potential to be sensantional (have tasted first juice) and Sauternes & Barsac also have potential to be something special (have tasted first juice too). The big question is if the winemakers will be able to transfer all the goodies resting in the barrels flawlessly to the bottle. I expect great things for 2010 vintage, but first after finished vinification (both fermentation for reds and alcoholic one for dry/sweet whites) we'll know exactly if it'll be a birth of another diamond vintage joining collection of great vintages.
19.10.2010 - message to me sent by Francois Mitjavile (Tertre Roteboeuf/Roc de Cambes) - "We finished harvesting at Roc de Cambes yesterday mid-day. Exceptional harvest! It reminds two succeding beautiful harvests, 1989 and 1990. We are lucky! Which character? Difficult to say now, you know that. Anyway, very high polyphénols concentration (more than last year), very expressive fruit."
18.10.2010 - harvest 2010 still on Thunevin properties. Jean-Pierre Meslier from Raymond Lafon told me today - "At the present time the pickers are in the vineyards and the weather unusually cold for the season but very dry allows us to pick tons of botrytised grapes. By the end of this week we will be able to confirm that it is another great year for us! The weather center forecasts nice and dry weather until sunday; this should give us enough time to pick a lot of grapes. Ideally we would also need nice weather next week in order to complete the picking though a large amount of the harvest will be picked in the next 5 days. We can say that "mother nature" is on our side: we got the needed rain twice but no rain in excess to dilute the juice in the grapes so the sugar content is very high and the grapes very healthy and beautifully roten!".
17.10.2010 - profiles of Domaine de Chevalier (vintages 2009, 2008, 2007, 2005, 2004, 2003 and 2002 in red + 2009, 2008, 2007, 2005 and 2000 in white), Haut Brion/La Mission Haut Brion (recent two vintages in red and white), Nairac (recent five vintages), Palmer (recent four vintages), Raymond Lafon (2009, 2005 and 2002), Tertre Roteboeuf (2009, 2008 and 2007 and the same for sister property Roc de Cambes) have been updated.
16.10.2010 - TNs from arrangement organized by Bordeaux negociant Beyerman and Theis Vine in Copenhagen on 1st September 2010 of other vintages than 2009 placed in corresponding chapters - 2008 (Smith Haut Lafitte blanc), 2007 (Angelus, Beychevelle, Canon-la-Gaffeliere, Cantemerle, Chasse Spleen, Clos de L'Oratoire, Ferriere, Haut Bailly, Labegorce, Latour Martillac white, Marquis d'Alesme and Smith Haut Lafitte), 2006 (D'Armailhac, Branaire, Clerc Milon, Destieux, Giscours, Fiefs of Lagrange, Lagrange, Latour Martillac, Leoville Poyferre, Pichon Baron, Suduiraut, du Tertre and Troplong Mondot ), 2005 (Talbot), 2004 (Carmes Haut Brion, Clemence, Haut Bages Liberal and Phelan Segur), 2003 (Beychevelle and Carmes Haut Brion) and "Additional tasting notes" (2002 Camensac, 1999 Gazin, 1999 Grand Puy Lacoste, 2000 Montrose, 2001 Petit Village and 2002 Pontet Canet).
16.10.2010 - Updated tasting notes on Bon Pasteur, Cantemerle, Fontenil, Lafon Rochet and Talbot, all five wines in vintage 2005, tasted at Danish winemerchant's Philipson Wine 23rd birthsday tasting in September 2010. Check out the corresponding chapter.
06.10.2010 - I just returned from Bordeaux. Chapter about 2009 harvest in Bordeaux moved to chapter "Archive". Pictures and comments concerning KISS, AC/DC and Katharine McPhee moved to new chapter "Music"
05.10.2010 - Bordeaux are really blessed by the weather Gods. Eating outside at 9 pm while temperature circles around 20 degrees C. It rounded 25 degrees C during afternoon today. Rain yesterday didn't affect grapes that much, since vines are in the very last phase of growing cyclus, meaning a little or nothing of water would come up to grapes. Soil just soaked the rain and walking in the vineyard of Palmer wasn't muddy at all. Thomas Duroux explained that alcohol is lower, tannins are riper and acidity is higher in 2010 compared with 2009. Everything is set up for the 5th vintage of the century, believe it or not, if the weather behaves itself until end of October, for 2010 will be a very late one. Cépes de Bordeaux (famous mushrooms here in the area) are in vast quantities and looking extremely appetizing!!
01/02/03.10.2010 - indian summer continues with high temperatures - 28 degrees Celsius on the 2nd and 3rd October. Small amount of rain fell during the evening of 3rd October and fine weather until Saturday. Anyone voting for repeat of famous trio vintages - 1988/1989/1990?! But rain from mid-morning to late evening, 15-20 mm rain and strong winds on the 04.10.2010.
29-30.09.2010 - still nice, mostly sunny weather with temperatures around mid-20s and grapes maturing without any problems. 2-4 millimeters of rain during the night between 29th and 30th September was a kind of refresh for vineyards. In Sauternes they didn't get any rain, Botrytis works quite slowly for the moment, which suggest late harvest. Domaine de Chevalier expects to start Merlot next week and Cabernet Sauvignon 10-14 days after, which suggest late harvest too. Claire Villars-Lurton from Haut Bages Liberal is very satisfied with her Merlot grapes, which are displaying more flavour and more acidity (meaning more freshnesss) than in 2009!
28.09.2010 - I've been in Bordeaux since yesterday checking harvest of new vintage. Still fine weather in Bordeaux and another great vintage is close. Small grapes, thick skins and sweet fruit promise excellent things.
26.09.2010 - chapter "Bordeaux 2009" has been updated with TNs from Beyerman tasting in Copenhagen on 1st September 2010.
20.09.2010 - vintage 2010 in Bordeaux looking very good, possibly excellent. Just talked to well-known winemaker on the Right Bank and he believes that 2010 easily can follow in tracks of 2000 or maybe 2005, if the weather behaves itself. Very nice dry weather for the moment, some rain in the end of the week, interesting if sunny weather keeps on after the weekend.
25.08.2010 - Sauternes & Barsac 2007 tasting notes put in Sauternes & Barsac chapter. Same chapter updated with TNs from mini-vertical of Lafaurie Peyraguey tasted in March 2008.
15.08.2010 - joint profile of two Sauternes wines (Gilette/Les Justices) put on the website.
02.05.2010 - 10.06.2010 - vintage chapters + chateau profiles updated with comments and ratings on 2009 vintage. Other chapters updated too.
21.04.2010 - ratings of app. 300 wines in vintage 2009 added - "BORDEAUX 2009" chapter.
03.04.2010 - chapters " Harvest 2008" and "Primeur 2008 vintage" moved to section "Archive".
07.03.2010 - more tasting notes added to sections "Additional tasting notes", Bordeaux 2008, Bordeaux 2007, Bordeaux 2006 and Bordeaux 2004.
15.02.2010 - profile of Haut Brion/La Mission Haut Brion updated with TNs from wine-dinner which took place in Copenhagen on the 4th February 2010.
31.12.2009 - more tasting notes added to section "Additional tasting notes", general update of entire website and profile of Pichon Comtesse added.
12.11.2009 - chapters Climens, Margaux, Nairac and Raymond Lafon updated with new tasting notes and new pictures (harvest 2009).
02.11.2009 - concerning harvest 2009 - check out this link - HARVEST IN BORDEAUX AS IT HAPPENED IN OCTOBER 2009
07.10.2009 - 16.10.2009 - I was present during harvest 2009 in Bordeaux.
28.09.2009 - I've just talked to one of my friends who's lived in Bordeaux for many years. He's not experienced before such an excellent summer and period up to and during the harvest. Weather still is excellent in all Bordeaux and Merlot beautiful all places. If other grape varietes like Cabernet Franc, Cabernet Sauvignon and Petit Verdot follow the pattern and get perfect ripeness, then I'm pretty sure we'll have a real vintage of the century or maybe a legendary one! Pink foam appearing in vats on the top of crushed grapes and liquid, is always hallmark of an outstanding vintage.
21-24.09.2009 - talked to Francois Mitjavile this morning (21.09). He told me that Right Bank in Bordeaux got around 55 millimeters of rain during the weekend, which was badly needed as ripeness stopped many places due to too dry soil. He'll start harvest at TR probably next Monday. Jean-Pierre Meslier from Raymond Lafon told me that this weekend-rain (over 10 mm) was very beneficial for botrytis fungus, who might spread through vines at Formel 1 speed. Grapes are perfectly ripe and begging for botrytis to come! I've received this message from Troplong Mondot today (24.09) -"2009 has been a year in which the weather could hardly have been better for the vineyard. The grapes have rarely tasted so extraordinary. With our vines in perfectly healthy shape, this harvest promises a magnificent vintage."
18.09.2009 - talked to Jean-Philippe Janoueix (La Croix St.Georges, Croix Mouton, Le Conseiller and La Confession/Haut Pontet) this morning. Starting with 2009 vintage he will conduct harvest at his father's La Croix, but with no commercial involvement in sale of it. He starts harvesting at La Croix St.Georges on Monday the 21st September. Jean-Christophe Meyrou, manager of Le Gay, La Violette and Montviel, says that vintage 2009 looks like 2005, but with higher acidity and thicker skins. The quality is astonishing and the quantity is remarkably higher than in 2008. Rain during this weekend will do vines, soil and particulary C.Sauvignon a very great favour. C. Sauvignon needs water to ripe perfectly but can hang on vines as long as it takes, since it can't be overripe. Harvest will start/continue many places on coming Monday, as warm weather and sunshine will come back and probably last until the 2nd October.
03.09.2009 - had spoken to several owners yesterday in Copenhagen as they visited the town with 2008 and older vintage(s). Actually, they think 2009 will challenge 2005 because of warm days with weak wind which means cool nights. It was fantastic August with only 14 mms of rain compared to 100-140 mm last year in same month. The whole summer was utterly fabulous concerning weather. Sugar levels are high, polyphenols in skins are in big quantities and waiting to be ripe. The only thing they need now is water to finish ripening. In Pomerol they expect to start harvest in one week's time and in Saint Emilion in 2/½ weeks time (Angelus). Some days later, they will start on the Left Bank.
14-30.08.2009 - the prospects for excellent 2009 vintage are still very much alive. Fine warm sunny weather with occasionally rain when needed, not windy and with cool nights, this is the status up to today. Change of color of grapes took place in the end of July which means one week earlier than normal, was quick and homogenous and went without any problems. HB/LMHB starts white harvest tomorrow. Talked to Turid Alcaras (director of PR at both estates) last Friday and she told me everything looks extremely promising in white and red varieties.
21.07.2009 - vintage 2009 development looks excellent for the moment. This is what I heard from Olivier Bernard (Domaine de Chevalier) and Francois Mitjavile (Tertre Roteboeuf/Roc de Cambes). After pretty cold start for the spring, the weather acted both rainy and warm, which allowed wegetation to simply explode without any diseases to spot. Flowering finished without any problems and in excellent conditions. Summer until now has been pretty dry and wintners like very much what they see. If weather behaves itself the next two months without some severe weather and week long rain, then everything is set up for another excellent vintage. Yields will be higher than last yearand harvest should start in the 3rd week of September, which is normal harvest time in Bordeaux.
21.05.2009 - profile of Château Margaux added.
19.05.2009 - Climens vertical 2007-1964 TNs added - look it up in chapter "Sauternes and Barsac".
05.05.2009 - my 2008 vintage report with text behind ratings is available here. TNs on older vintages if tasted in March/April 2009, have been updated in respective profiles. More tasting notes added to chapter "Additional tasting notes".
19.04.2009 - ratings of app. 256 wines in vintage 2008 added - "BORDEAUX 2008" chapter.
07.09.2008 - profile of Beychevelle updated and chapter "Bordeaux 2004" updated too, with recent TNs from tasting in Copenhagen on 3rd September 2008.
23.06.2008 - TNs from tasting of 22 wines in vintage 2005 from Sauternes & Barsac in April 2008 added. Click here.
06.05.2008 - my 2007 vintage report is available here.
06.01.2008 - several tasting notes added to section "Additional tasting notes" including Montrose 1952.
18.10.2007 - two new chapters added; Bordeaux 2007 and Additional tasting notes. The latter chapter contains only tasting notes starting with vintage 2002 vintage and covers also older vintages. New tasting notes (mainly Le Gay and Valandraud) of 2006, 2005, 2004 and 2003 wines have been added to the respective chapters. Profiles of La Mission Haut Brion/Haut Brion, Lafleur, Latour, Nairac, Palmer and Tertre Roteboeuf/Roc des Cambes has been updated with tasting notes on wines tasted at these properties in October 2007.
11-16.09.2007 - profiles of Château Palmer and Château Latour added.
17.08.2007 - update of chapter concerning La Mission Haut Brion/Haut Brion (adding TNs for vintages from 1975 to 1920 and recently tasted vintages in red and white) had been completed.
27.03.2007 - tasting of Sauternes & Barsac 2003 and TNs on several vintages of La Tour Blanche added in Sauternes & Barsac chapter.
IMPORTANT!
IT'S NOT ALLOWED IN ANY WAY TO USE CONTAINS OF THIS WEBSITE FOR COMMERCIAL REASONS AND PUBLISHING ON INTERNET FORUMS OR/AND IN NEWSPAPERS/MAGAZINES, WITHOUT WRITTEN PERMISSION FROM THE COPYRIGHT OWNER. ANY VIOLATIONS OF COPYRIGHT WILL BE PROSECUTED!


Updated 30.11.2014