© 2003-2015 I.Litwar
Sylvie & Jacques Guinaudeau, who now own Château Lafleur. Please notice the very stony surface of Lafleur's vineyard. March 2004.
There's nothing glamorous over Lafleur estate, but the wine is phenomenal.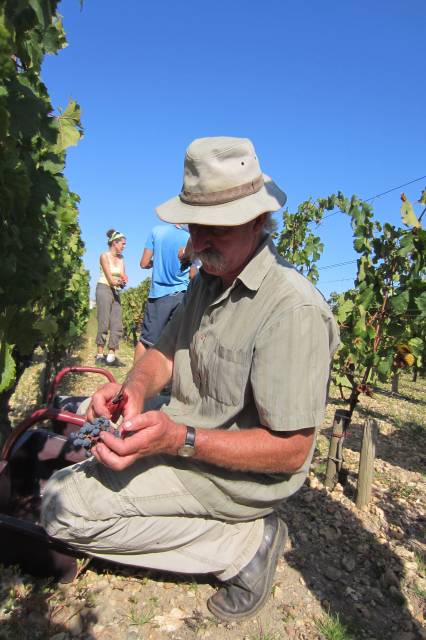 Jacques Guinaudeau examining the bunch of grapes during harvest in September 2011
Pomerol is situated around 50 km east of Bordeaux city, between Libourne in south, Isle river and motorway N10 in west, Saint-Emilion district in east and Barbanne (tiny tributary to Isle river) in north. Commonly, Pomerol's placement on the map is described as Right Bank, because Dordogne river runs several kilometres along the southwestern side of the district on its way to Gironde, meaning Pomerol "looks" at Dordogne river from Right Bank of it. Because of its small size, Pomerol has got an affectionate nickname "Bordeaux' little garden" - this district it's just 4 km long and 3 km wide!
It's in eastern part of Pomerol, that you find many famous names. This area is app. 900 meters wide and circle shaped plateau in east-Pomerol, close to the border of Saint-Emilion. This plateau, which by the way is the highest point in Pomerol Pomerol (app. 40 meters above sea level), has got nickname "Le Plateau Argileux" Surface of the soil in the plateau is a deep layer of gravel mixed with clay and some sand. Subsoil here and many other places in Pomerol has a very interesting and distinctive composition, and is only to be found in Pomerol and therefore not widely known. It consists of the so-called "crasse de fer" and clay. "Crasse de fer" is iron dirt or more precisely a kind of very firm and stony blend of earth and metal with high content of iron-oxide, which gives the wines a very characteristic flavour of something fat and metallic, which many associate with truffles.
Lafleur enjoys perfect location within "Le Plateau Argileux". Lafleur has varying blend of big and small stones plus sand on the surface. Subsoil here varies too between "crasse de fer" mixed with gravel or sand in different proportions. This composition of soil surface and subsoil is strongly contributing to, that cépage at Lafleur is Merlot and Cabernet Franc in ratio 50:50.
Lafleur is the only property in Pomerol, which has so much Cabernet Franc in its wine. The vineyard is 4,5 ha big, vines are on average over 30 years old and wine stays 18-20 months in 33-50% new barrels. Jacques Guinaudeau together with his wife Sylvie has been at Lafleur since 1985 and acquired full control of Lafleur in 2005.
Jacques Guinaudeau is perfectionist to the outmost of fingernails. The vineyard is painfully clean, every single vine receives loving care and the wine has a "print" of soil and the winemaker. He uses modern techniques within vinification with outmost care and sensibility. He harvests late but not too late – grapes should be perfectly ripe and not end overripe á la marmalade.
Unlike for instance. traditionally made Pétrus, malolactic fermentation (malic acid is converted to lactic acid and wine gets rid of excess of acid it doesn't need) takes place at Lafleur in barrels (instead of stainless-steel vats) to give wine more aroma, mere breed and more strings to play on.
How is Lafleur then? It's simply breathtaking wine with stunning concentration, intensity and richness of nuances, refined and sophisticated. It has fantastic aroma of dark cherries, raspberries and truffles, and is especially in its early life (first 2-3 years) incredibly aromatic. Lafleur is a wine with incredibly long keeping potential - 30-40 years or even longer in extraordinary vintages. In these vintages, Lafleur is simply as stunning as First Growths! Check out vintages 2010, 2009, 2005, 2004, 2001 and 2000, and you will know what I mean!
Lafleur 2013 (barrel sample) 95p
Tasted in April 2014. This wine benefitted a lot from late harvest of Cabernet Franc (mid-October) with vast quantities of black fruit, strong backbone and elastic structure, minerality and long persistent finish. Beautiful work in this difficult vintage.
Lafleur 2012 (barrel sample) 94p
Tasted three times - last time in April 2014. Consistent notes.
This wine did put on weight and intensity since primeur tasting in April 2013. Chocolate/cocoa on the nose, aromatic, very friendly, silky fruit and tannin, great structure and length. More elegance and finesse here than power and muscles. Not willing to show all its qualities in April 2014, but I've to be patient.
Lafleur 2011 96p
Tasted four times - last time in April 2014. Consistent notes. For me, it's the best wine in Pomerol in 2011 vintage. Jacques Guinaudeau made a fantastic 2011, approaching almost quality of 2010 vintage here. Extremely dense and tight, full of black cherries, very sophisticated and refined, exceptional balance between fatty, ripe tannins and perfectly ripe fruit, stunning aftertaste that goes on and on. Breathtaking stuff.
Lafleur 2010 99p
Tasted twice - last time in September 2013. Consistent notes. This wine had very strong backbone, dark cherries covered by Varlhona chocolate. Thick black cherry fruit and fat tannin at perfect level of ripeness, chocolate/cacao powder on the nose, wonderful structure, deeply structured and sophisticated, silky tannin and fruit on palate, fabulous finish. Wonderful stuff.
Lafleur 2009 97+p
Tasted three times - last time in September 2012. Consistent notes. This wine was strong, multidimensional, lots of sweet black cherries, opulent, ripe and sweet tannin, exquisite balance and sophisticated touch, richness and extremely long aftertaste. Slight touch of alcohol on the fruit.
Lafleur 2008 94p
Tasted three times - last time in September 2012. Consistent notes. This wine offered strength and power, ripe and silky tannins, exquisite balance and sophisticated touch, richness and very long aftertaste. Very impressive.
Lafleur 2007 (barrel sample) 92p
Tasted twice - last time in April 2008. Consistent notes. It tasted a bit tight but with splendid force of black cherries beautifully balanced by silky fat tannin, stunning structure and long finish.
Lafleur 2006 94p
Tasted three times - last time in September 2012. Consistent notes. It possessed hugely aromatic nose of dark berries like blueberries and blackberries, was full-bodied, refined and had large amount of ripe tannin. In September 2012 it was full of massive fruit and tannin, backward and with very firm finish. To keep for 10-15 years before drinking it.
Lafleur 2005 100p
Tasted five times - last time in September 2012. Consistent notes. You hear angels sing! 2005 will be worthy rival to the unforgettable 2000 vintage, with its depth, breathtaking richness and refinement. Very dark. Incredibly potent, intense and sensual nose of wild cherries, almost essence stuff on nose and palate, velvety all over, extremely powerful, iron fist structure and fantastic balance. It feels like this wine is just a pure silk from start to end. Mind-boggling wine.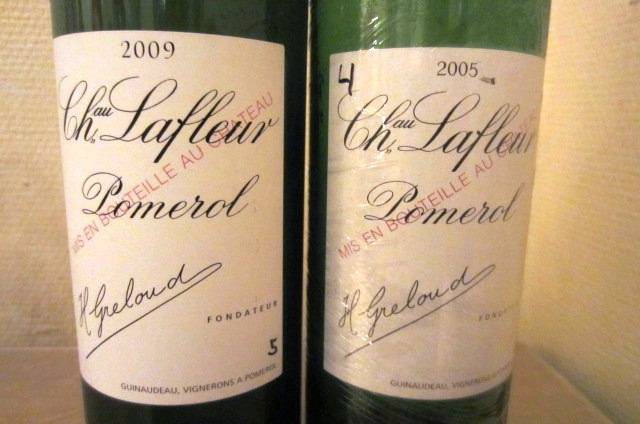 Lafleur 2004 95p
Tasted three times - last time in April 2007 when in bottle. Consistent notes. 60% Merlot + 40% Cabernet Franc. Dense dark red. Beautiful and sensual aromas of black fruit, very deep and intense, silky tannins, very powerful and long, and sophisticated. Exceptional wine.
Lafleur 2003 93p
Tasted twice - last time in September 2012. Consistent notes. 50% Merlot and 50% Cabernet Franc. Very complex and intense nose of extremely ripe fruit, quite spicy and with touch of heat. Splendidly structured and balanced wine, full-bodied and very long on the palate. This was as it tasted from the barrel in 2004. In September 2012 it was strong and powerful, black cherries, deep and sophisticated to start with. Gradually it got slightly warm flavor on the fruit and tannin started to show more and more dryness. I'm not sure about keeping possibilities.
Lafleur 2002 93p
Tasted twice - last time in April 2006. Consistent notes. 60% Merlot + 40% Cabernet Franc. Wonderfully aromatic and catchy nose, elegant on the palate with round tannins. Splendid structure and long aftertaste. Not as exciting as 2001, but who really cares. Excellent wine for the vintage.
Lafleur 2001 96p
Tasted 7 times - last time in September 2012. Consistent notes. 60% Merlot + 40% Cabernet Franc. This vintage has always been one of my favorite Lafleurs. A wine I always have adored, mainly because of its incredibly captivating nose of truffles, black fruit, richness, sophisticated touch and fabulous structure. Utterly impressive stuff.
Lafleur 2000 100p
Tasted 7 times - last time in September 2012. Consistent notes. A monumental piece of phenomenal winemaking! It is extremely rarely, that you taste so complete wine. Tons of truffles, thick, fat tannin, unbelievable complexity and richness, wild cherries, blueberries and blackberries in very huge quantities. Older sister/brother of 2005, but as breathtaking. A pure legend being able to last for at least half a century!
Lafleur 1999 93p
Tasted twice - last time in April 2006. Consistent notes. Very complete wine with exquisite complexity and finesse. Well-balanced and well-put together, splendid depth and soft aftertaste. Stunning wine for the vintage, which should keep well for 10-15 years.
Lafleur 1998 95p
Tasted three times - last time in September 2012. Consistent notes. Deep red. Strong and potent wine with great depth and iron strong structure, ripe fruit and ripe tannin. Very impressive indeed. A keeper.
Lafleur 1997 89p
Tasted twice - last time in April 2006. Consistent notes. On the light and elegant side with fruity nose of raspberries. Quite well-defined on the palate with good structure and length. Will mature rather quickly, which means 6-8 years.
Lafleur 1994 95p
Tasted in November 2013. Thight and concentrated, powerful and rich. Excellent depth, balance and length. Firm finish. Many years to go. Jacques Guinaudeau did get max. out of his grapes in this vintage. Great effort.
This old sign pictured in the beginning of ´90s - now it is removed
Lafleur 1989 96p
Tasted twice - last time in September 2012. Consistent notes. Very intense and robust. Loads of superbly ripe fruit, kirsch liqueur, truffles and greath depth on the palate. Wonderful structure and length. Exceptional wine.
Lafleur 1988 95p
Tasted in September 2012. Darker in colour, tighter with more power and concentration than 1985, iron strong structure, dark cherries and raspberries everywhere, excellent balance and long firm finish. Not ready yet. Excellent stuff as well.
Lafleur 1985 94p
Tasted in September 2012. Quite dark, matured flavours of cherries and truffles, broad and intense on palate, delicious velvety tannin, exquisite balance, long and sophisticated, persistent and smooth aftertaste. At its very peak right now. Excellent stuff.
Lafleur 1982 100p
Tasted in September 2012. Oh my God what a wine. Absolutely no doubt that it was 1982 vintage! Heavenly stuff. Extremely dark and dense. Wild and incredibly intense nose with "tons" of mocha, bitter chocolate, extremely powerful on the palate with kirsch liqueur, extremely concentrated with extraordinary length. Perfect balance. So thick texture in this wine, that you could cut it in slices. Christian Moueix and Jean-Claude Berrouet from close neighbor Petrus made this wine and it shows, for 100% typical Lafleur this wine isn't. But who really cares, as this wine was, is and will be a legend for many years to come.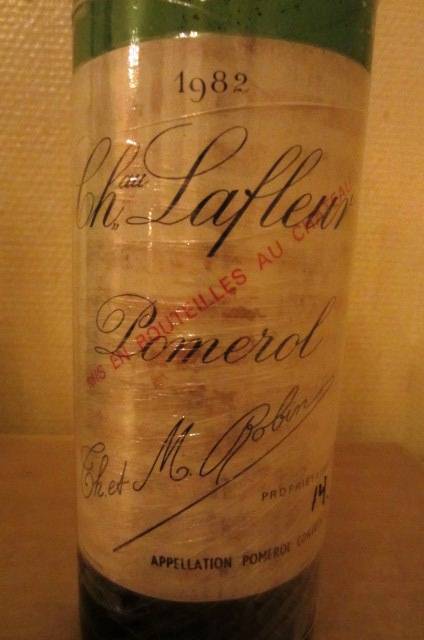 Lafleur 1964 97p
Tasted in May 2006. Original château bottling. Simply wonderfully parfumed and exciting wine! Truffles and cherries everywhere. Incredibly refined and sophisticated with perfect balance and exquisite structure. Long and lingering aftertaste. Simply breathtaking wine for a 42 years old one wine!
Lafleur's second wine, Pensées de Lafleur, represents very fine value for the money.